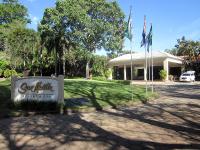 Hotel San Martin
Location
Iguassu Falls access road (Iguassu Falls, Brazil)
Description
This is a traditional hotel right next to the national park entrance, and a few steps from the aviaries of the Bird Park. It has a restaurant, and a spa with a sauna, steam room and massage service. There are extensive grounds with nature trails, an attractive pool, tennis courts, a volleyball court and a football field.
Accommodation
There are 135 rooms in several categories - some of which are slightly tired.
Our comments
Very good value and a good position on regular bus routes into either Foz town or the Iguassu Falls.
Client comments and reviews
The location and infrastructure were great, and the pool and gardens totally lovely but the staff and service really let the place down. They didn't bother being pleasant, just the pool staff being the exception. - PM (August 2018)
We found the hotel bland and the restaurant was canteen-like. - PG (December 2013)
The hotel at Iguassu was very good and so convenient for the falls. It was also very handy for visiting the bird park, which we also went to (as you suggested). - SH (November 2013)
The hotel is in an excellent position and has excellent facilities but the staff were surly and unhelpful. - MM (November 2013)