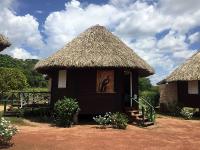 Surama Guest House
Location
Surama village (The Central forest zone, Guianas)
Description
Just south of Iwokrama and on the northern edge of the Rupununi. The villagers' houses are dotted around the edges of a small savannah, there is a primary school for about 50 children and a small zoo which occasionally houses animals being studied by overseas researchers.
Activities
Walks into the savannah or gallery forest, visits to the school, boat trips.
Accommodation
The Guest House, outside the village, has lovely views to the nearby mountains. Each of the cabins is decorated in the style of one of Guyana's Amerindian groups. Overnights in hammocks can also be arranged.
Our comments
One of the best examples of a successful community tourism project we have ever seen.
Client comments and reviews
Surama was wonderful. Gary, our guide, and Jackie, our host, were fabulous. This is just my type of place. The accommodation was basic but the surroundings were stunning. I will never forget our first night walk ... a full Moon, striped with high clouds, illuminating a billowing thunderstorm in the the distance; stars glittering in the inky sky; and millions of fireflies blinking in the grass all around us. Magic. And Gary was a fantastic guide, bringing the whole place to life for us. Our river trips were also memorable, especially meeting the giant otters. I only wish we could have stayed longer here and done an overnight in the hammock camp by the river. It's pretty much perfect as it is, hope it never changes. We also had to be transferred out of the lodge on the back of motorbikes because a truck had broken the bridge; a most excellent transfer!! - ML (February 2009)