Pristine in its isolation and dramatically beautiful, Antarctica is covered in perpetual ice several kilometres thick. Its freezing waters teem with spectacular wildlife, pursuing a frenzied race to breed during the four short months of summer.
It takes several days to sail from Cape Horn to the Antarctic Peninsula, crossing the notorious Drake Passage in the wake of great polar explorers like Scott and Shackleton. No-one who experiences this extraordinary journey will forget their first glimpse of ice so dense it looks blue, the sheer walls and flat tops of huge tabular icebergs, massive ice shelves and glacial valleys, against a backdrop of mountains that have never been climbed.
Intrepid adventurers can paddle a kayak through the narrow channels between ice floes or camp ashore in the immense emptiness of an Antarctic night, falling asleep to the sounds of wind blowing and ice cracking.
Wildlife watching here is outstanding - sea birds, whales, dolphins and seals attracted by the millions of krill that stock the oceans in abundance. The Falkland Islands (Islas Malvinas) are home to vast colonies of penguins, raising their chicks on white sand beaches, albatross, sea lions, orcas and elephant seals. Longer cruises can include South Georgia, a protected marine ecosystem of exceptional biodiversity with the largest king penguin rookery on earth.
Highlights
Here are some of our Antarctica highlights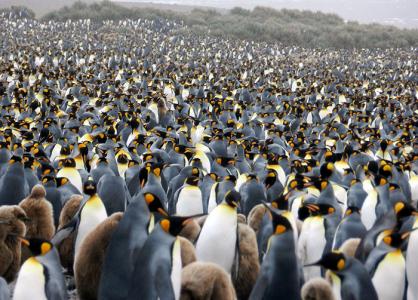 Wildlife
The wildlife is outstanding in Antarctica's surrounding oceans - penguins, whales, albatross and orcas are all long-established residents. Longer cruises also visit South Georgia, home to the largest king penguin rookery on earth.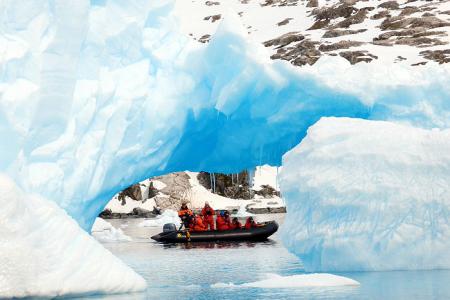 Natural splendour
Marvel at the icy blue structures floating along silently, each sculpted by the elements highlighting nature's grandeur. Antarctica is like no other place on earth, hauntingly beautiful and simply stunning.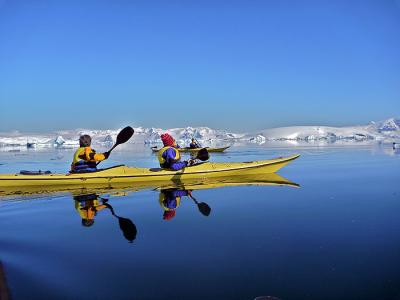 Adventure
Kayak around peaceful bays through narrow channels, admiring the icebergs and playful penguins. The more adventurous may like to try camping on the uninhabited white continent itself, an experience like no other.
We are coming down to earth after an excellent holiday and are busy showing people our 'stormy' video of Antarctica! We were unlucky with the weather and had gales most days which did limit the landings, BUT having said all that we did not miss a meal (our waistlines bear witness to this) and the crew did fantastically well to get us ashore as much as they did. I also feel that the unpredictablity of the weather will protect the area from a rush of tourists which is probably a good thing and added to our whole experience. It is an amazing place, the ice, penguins, seals, whales and birds are fabulous. The expedition leaders, the lectures, the food and the service were outstanding. A huge thank you for all your help. - RM
When to go to Antarctica
Antarctica Useful Information