Latin America has some of the best and most varied fishing in the world. Southern Patagonia is renowned for sea trout, particularly on the Rio Grande, and the Lake District for browns, rainbow, and even Pacific salmon. In northern Argentina the Iberá marshlands are popular for fresh water dorado; or for fighting peacock bass try the Amazon basin. Further north, both Cuba and Venezuela's Los Roques are famous for bonefish. The Pacific coast of Guatemala is excellent for billfish, particularly sailfish, and the Caribbean coasts of Belize, Costa Rica and Mexico offer good flat, reef and deep sea fishing.
We have some keen fishermen (and women) in the office and are always happy to offer unbiased advice on where to go, particularly for those for whom not all members of the party want to be on the river every day. For example, while Tierra del Fuego can be a little bleak (compensated for by the size and quantity of the fish), in the Lake District (either Chile or Argentina) the fishing can just be an excuse for spending time surrounded by breath-taking scenery. Do get in touch with Ed or Sue for more details (ask for our dedicated fishing pamphlet).
Best time
Seasons vary from country to country but for example, the season is generally November to April in Patagonia and Tierra del Fuego, January to July in Venezuela, and September to April in the Iberá marshlands.
Itinerary Ideas
Here are some sample itineraries that feature fishing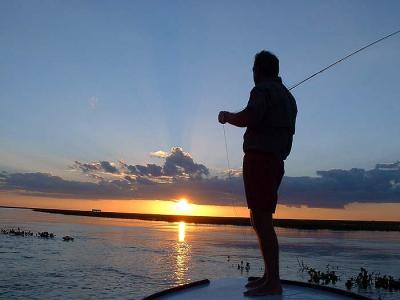 Brown, rainbow and sea trout to explosive dorado amongst Argentina's stunning scenery
I thoroughly enjoyed the fishing and as always the guides at your lodges are 'top of the tree' - always friendly, and helpful and passionate about getting fish - JO in Argentina