These remarkable volcanic islands are unique in the world for the richness and variety of their wildlife. Hugely influential to Charles Darwin's theory of evolution, a visit to the Galapagos is a once-in-a-lifetime experience of nature at work.
Formed by a combination of volcanic activity and uplift in the last 15 million years, the Galapagos were first used by pirates and buccaneers as a hideaway, and have only had permanent inhabitants since the 19th century due to the harsh conditions and lack of easily-obtained water.
Whether you stay on board a comfortable boat or opt for an adventurous safari you'll see some of the most exciting wildlife on the planet, which due to the relative lack of predators shows no fear and is easily approached by visitors. Several species are unique to the islands, including giant tortoises, fur seals, marine iguanas, flightless cormorants, Galapagos penguins (the only penguins to live on the equator) and vampire finches.
The islands' marine life is breathtaking. There are some excellent snorkelling sites where you can swim with playful sea lions and see dolphins, penguins, rays, sea turtles, and even whale sharks (the world's largest fish) in their natural element.
Highlights
Here are some of our Galapagos highlights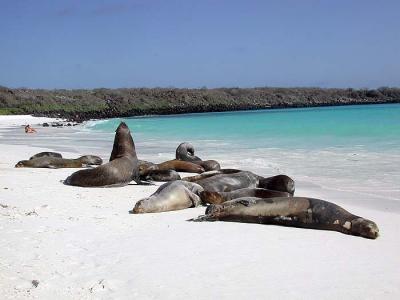 Unique beaches
There are some stunning beaches in Galapagos and quite varied from idyllic white sand and coral to black lava. They are often deserted, save a few sealions, unless they are already out in the turquiose-blue water having fun with snorkellers.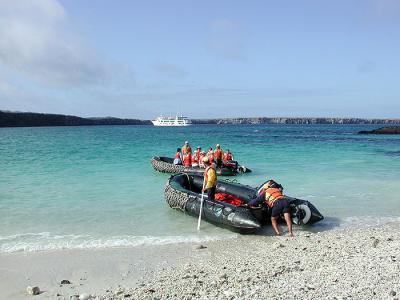 Island cruising
Arguably the best way to visit the Galapagos Islands is to take a cruise. There are many different boats sailing around the enchanted islands from yachts to catamarans to cruise ships with guided visits to various islands made by panga boats.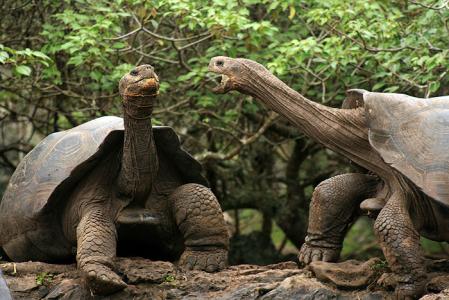 Wildlife
With few natural predators, Galapagos wildlife are easily approached by visitors. Some species are unique to the islands, including giant tortoises. Many have heard of (the now late) Lonesome George but there are other species and various breeding programs in place.
The whole trip was a highlight and so different to anything experienced before, your recommendations and selections were outstanding and faultless. Our guide in Quito also deserves an honourable mention. - LT
When to go to Galapagos
Galapagos Useful Information