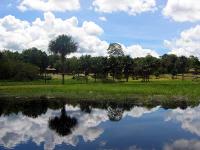 Timberhead Resort
Location
Essequibo River (The Central forest zone, Guianas)
Description
1 hour by boat and 1 hour by car from Georgetown, a simple lodge with a wonderful location on the river.
Activities
Nature trails, river trips, visit local villages.
Accommodation
Very simple rooms with mosquito nets and shared bathrooms (no hot water or electricity). Rooms have hammocks and terraces to relax on.
Our comments
Very simple but a great place for wildlife and relaxing.
When to go
All year round. Rainy season May and June.