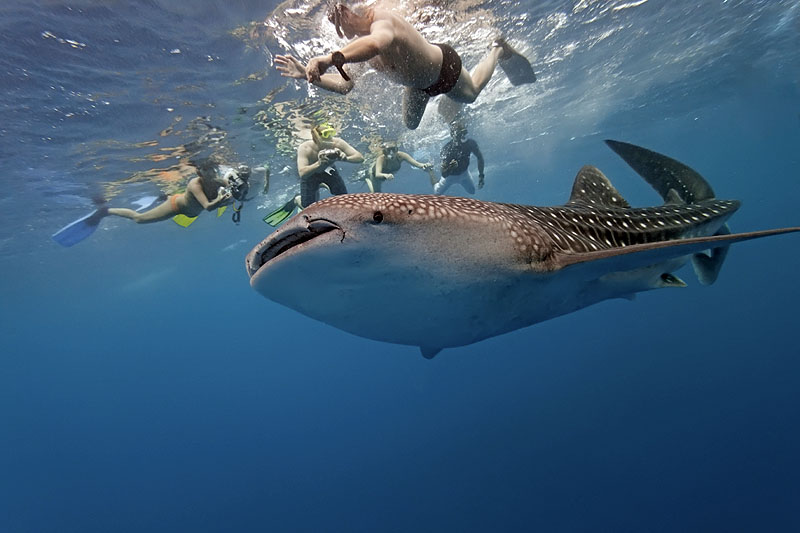 Mexico whale adventure
from the Sea of Cortés to the Pacific, whale-watching and exploring Mexico's Baja peninsula
A 15 day tour exploring the wilds of Baja California with a hire car and taking in the whale watching areas of Loreto, Magdalena Bay and Los Cabos.
To enquire about this itinerary, or one like it, please email us or click the Enquire button.
Itinerary summary
La Paz
Days 1-4: After an overnight flight to Mexico City, connect with the flight to La Paz on the Baja California peninsula. Spend two whole days enjoying the area - you can book a trip to the stunning Isla Espíritu Santo island where you can swim with sealions and tropical fish - the Sea of Cortés was aptly named 'the aquarium of the world' by Jacques Cousteau. Whale sharks are also found in the area and you can snorkel with these placid huge fish (the largest in the sea).
Loreto
Days 5-7: Fly north to Loreto, still on the Sea of Cortés. You will receive your hire car on arrival. Spend three nights here, with one full day whale-watching included, in search of the blue whale (the largest known animal ever to have existed). The following day can be spent at your leisure. Loreto is on the Camino Real along which are dotted Spanish colonial missions - the Virgen de Loreto mission is in town and the San Francisco Javier mission only a 35 minute drive away.
Magdalena Bay
Days 8-9: Drive south (around 3 hours) to Puerto San Carlos on the shores of Magdalena Bay on the Pacific Ocean. Here you have a whole day to book a whale watching trip in the bay where the grey whales come to have their calves and there are good chances of getting quite close to the whales.
Todos Santos
Day 10: Drive south to Todos Santos (around 4½ hours) for a night in this quirky village. The folllowing day, before heading off to Los Cabos, you will be met by your private guide for a hike in the Sierra de la Laguna Biosphere Reserve, one of Baja's most beautiful but least explored areas. There are two different trail options, depending how active you are feeling.
Los Cabos
Days 11-15: Following your hike, drive south to Los Cabos (around 1 hour) and drop off your hire car. Spend four days relaxing at your hotel. Whale watching trips to see humpback whales in the Pacific Ocean can also be booked locally. Depart from Los Cabos airport for Mexico City and onward connections.
Go Further
You could extend this trip with a two night stay in the tented camp on Isla Espíritu Santo.
Notes:
Whale-watching is best between early February and mid-March.
If you prefer not to drive, this itinerary is also possible guided - please ask us for costs.
Accommodation options
In the following section you will see our suggested options for possible accommodation.
The estimated flight cost included in this itinerary (assuming international flights from the UK plus any internal flights that are necessary) is £850 per person.
Standard - £4,020
El Ganzo - a funky hotel on the marina in San José. It is a short distance from town and has a beach club in the harbour where guests can swim safely.
Guaycura Boutique Hotel and Spa - a lovely hotel in the heart of Todos Santos. It has a beautiful rooftop lounge and pool and mirador restaurant and beach club on the coast.
Posada de las Flores - in a handy position on the sea-front in La Paz. There are nice views from the rooftop and there is a small lap pool.
Price and validity notes
We have tried to give you as accurate an idea of prices as possible, including meals where appropriate (but not when there are good local options so you don't pay for a meal that you might not want), accommodation, transfers, and any tours we have included.
All prices are per person based on two people sharing a room and are intended as a guide (local high or low seasons can cause some variation). All prices were correct when published but may vary with exchange rate fluctuations, fuel surcharges, or changes in the general economic situation.