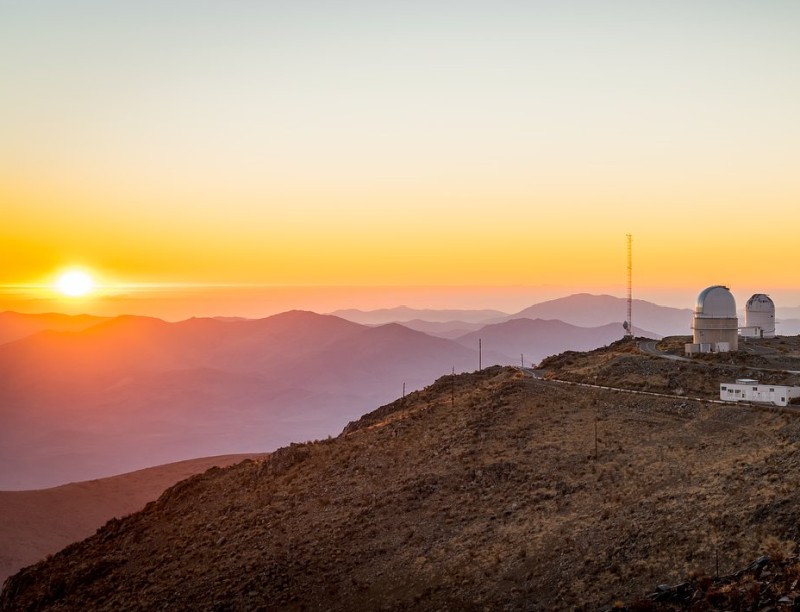 Chile: Total solar eclipse
with Oxford's Professor of Astrophysics
28 June to 3 (or 9) July 2019: Experience a total solar eclipse in the clear skies of northern Chile, explore the green and fertile Elqui valley whose vineyards produce grapes for the famous pisco brandy, and visit observatories where Oxford-developed equipment is in use. With an optional add-on to the stunningly beautiful Torres del Paine national park in Chile's far south.
To enquire about this itinerary, or one like it, please email us or click the Enquire button.
Itinerary summary
Friday 28 June 2019 - Arrival day (Santiago): For UK participants, the recommended non-stop flight from London Heathrow with British Airways departs around 10pm on Thursday 27 June and arrives in Santiago on Friday around 7:30am. Other flights can be met on request.
Santiago
In the Chilean capital historic architecture jostles for space alongside modern-day skyscrapers and traditional markets. Santiago's central location makes it a convenient base point to further explore the country and is also a departure point for visits to Chile's Pacific islands.
Spend 2 nights in Santiago, where there will be a welcome dinner and Professor Davies will give an introductory talk.
Saturday 29 June: Take a panoramic city tour including visits to: San Cristóbal hill; the main square; the cathedral; the Government Palace (La Moneda); the central market; old and new Santiago; and, if weather conditions are favourable, a local observatory.
La Serena and the Elqui valley
The Norte Chico, 450km north of Santiago, has an arid landscape of towering mountains, punctuated by green and fertile valleys irrigated by the rivers that flow towards the Pacific. The Elqui valley is famous for the grapes used to make Pisco brandy, and also for its astronomical observatories: with virtually no rain, clear nights are almost guaranteed. In the highlands are enigmatic petroglyphs left by previous cultures, while on the coast marine wildlife is plentiful.
30 June - 2 July: Fly north to La Serena. After landing around midday, travel to Cerro Pachón (2,700m) and the Gemini South observatory. Operated by a partnership of five countries Gemini's twin sites (the other is in Hawaii) were chosen as they are two of the best observing sites on Earth; each has an 8.1m telescope. Professor Davies and his department at Oxford were involved in Gemini's design and construction.
Explore the picturesque Elqui valley, birthplace of Chile's first winner of the Nobel prize for literature, Gabriela Mistral. The fertile fields of the valley are surrounded by arid desert, and sites of interest include vineyards supplying grapes for pisco distilleries (a local brandy), and the small town of Vicuña with its pretty church.
Accommodation (3 nights) is in a comfortable apartment block on the ocean front at La Serena, with a pool.
Visit La Silla, a large observatory with multiple telescopes at the southern extreme of the Atacama desert, operated by ESO (European Southern Observatory).
The finale to this part of the tour will of course be the solar eclipse itself, which starts at 1520 local time on 2 July, with totality at 1638.
Wednesday 3 July: Fly back to Santiago, where those leaving the group can make international connections. There is a British Airways non-stop flight to the UK that departs around 5pm, and arrives in Heathrow at midday on 4 July.
Optional tour extension
Connect in Santiago on to a south-bound flight to Punta Arenas, gateway to southern Chile, and spend one night in this historic city.
Torres del Paine National Park
Sheer granite walls rise up to heights of 8,000 feet in the 1,630 square kilometres of this stunning national park; glaciers and a sea of ice stretch into the distance and turquoise lakes are constantly replenished by water from the Patagonian Ice Cap.
4-7 July: After a tour of the principle attractions of Punta Arenas, drive north for 4 nights in the national park, based at Hotel Lago Grey, at the western edge of the park and on the shores of Lago Grey. The hotel has lovely views towards a shingle spit where icebergs often ground, and the lake is fed by the Grey glacier (optional boat visit if weather conditions permit and at extra cost).
3 full days for activities, which include good walking, wildlife observation and a half-day boat trip on the Grey lake to visit the stunning glacier.
Torres del Paine in mid-winter shows a very different side to that experienced by summer visitors: the wind drops, snow dusts the granite peaks, the weather is generally cold and clear, and wildlife that would otherwise shy away from tourists can be observed more easily. Seeing a puma, South America's top predator, is a distinct possibility.
Monday 8 July: Drive back to Punta Arenas, fly back to Santiago and stay a final night at the Hotel Plaza San Francisco.
Tuesday 9 July: Transfer to airport for homeward or onward connections. A British Airways flight to the UK departs around 5pm, arriving at midday the next day.
Notes:
Price (core tour, 28 June-3 July): from £3,185 per person sharing a double/twin room. Do contact us for availability, flight quotes, and booking conditions.
Add-on tour (3-9 July): from £1,390 per person
The trip scholar is Professor Roger Davies, Philip Wetton Professor and Director of the Hintze Centre for Astrophysical Surveys at the University of Oxford. See our trip scholar pages for further details.
The outline presented here was accurate when published in February 2018 but we may need to add or omit visits (including observatories); alter the length of stay in each place; or change routings to make the best connections.