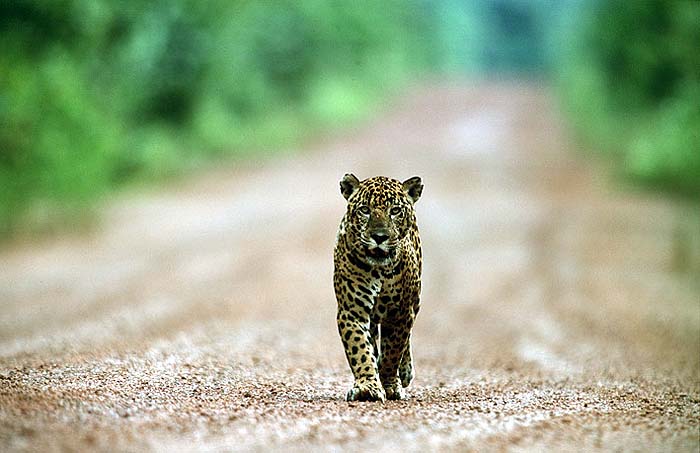 Classic Guyana
explore virgin rainforest, spot rare and diverse wildlife and cruise along the rivers of the endless Rupununi savannas
This 14 day itinerary is a comprehensive and varied insight into a little-visited country, whose pristine rainforest and friendly people will make any visit an unforgettable experience.
To enquire about this itinerary, or one like it, please email us or click the Enquire button.
Itinerary summary
Georgetown and Kaieteur Falls
Days 1-2: Arrive in Georgetown on the edge of the Demerara river with its attractive wooden buildings, particularly St George's cathedral, and stay two nights. Take a small plane to the impressive Kaieteur Falls, where you can land and walk to the river's edge for fantastic close-up views.
Iwokrama: jungle and jaguars
Days 3-6: Fly to Fairview and met for the short transfer to the Iwokrama Forest Reserve. Two nights are spent in comfortable cabins on the banks of the mighty Essequibo river in the reserve, where guided tours take you into the surrounding rainforest. The Iwokrama canopy walkway allows the opportunity to view a range of canopy species, many of which you would struggle to see from the forest floor, and a night at the lodge is a unique experience.
Surama: community tourism in action
Days 7-9: Continue south by road (about an hour, unless you spot a jaguar) to the village of Surama for two nights. The women of the village have a successful cassava (yuca) factory and you can visit the school. Daily walks or boat rides are arranged into the forest and across the savanna. Continue South to hike the Panorama Trail and stay a night in the small town of Annai.
The Rupununi: rivers and savanna
Days 10-12: Continue south by boat for two nights at Karanambu, with the chance to see some orphan otters, or their wild cousins. A boat excursion to see the Victoria Amazonica lily at dusk is magical and giant anteaters are often seen in the early morning. Travelling further along the river, with wildlife viewing on the way, arrive to the local village of Yupukari and stay a night. During your stay visit the village and learn about an ongoing Black Caiman project.
Georgetown
Days 13-14: Driven (about 2 hours) to Lethem and fly back to Georgetown for a final night. The following day driven to the airport for international connections.
Go Further - virgin rainforest and wildlife
If you have time, the following add-on would fit neatly just after Surama:
Travel by boat to Rewa to experience virgin forest and spot wildlife, including river turtles and giant arapaima fish. We suggest two nights in this pristine area, before returning to Annai for a night.
Add adventure - drive your own 4x4
If you are happy driving on dirt roads then we can adapt any Guyana itinerary so that you can drive yourself for part of the journey in a comfortable double cabin 4x4 pick-up. The main Georgetown to Lethem highway passes through primary rainforest and across open savanna and driving yourself can add extra flexibility, and reduce dependence on scheduled air services, quite apart from the fun. Ask us for details - prices will be similar. Not advisable in the wet season (particularly June to August).
Accommodation options
In the following section you will see our suggested options for possible accommodation.
The estimated flight cost included in this itinerary (assuming international flights from the UK plus any internal flights that are necessary) is £800 per person.
Standard - £6,700
Caiman House - the best place to stay to learn about the Black Caiman project.
Iwokrama River Lodge - inside the Iwokrama reserve, home to the Arapaima, the harpy eagle and the elusive jaguar.
Karanambu - the home of Diane McTurk, who is well known for her success in re-habilitating giant river otters into the wild.
Price and validity notes
We have tried to give you as accurate an idea of prices as possible, including meals where appropriate (but not when there are good local options so you don't pay for a meal that you might not want), accommodation, transfers, and any tours we have included.
All prices are per person based on two people sharing a room and are intended as a guide (local high or low seasons can cause some variation). All prices were correct when published but may vary with exchange rate fluctuations, fuel surcharges, or changes in the general economic situation.