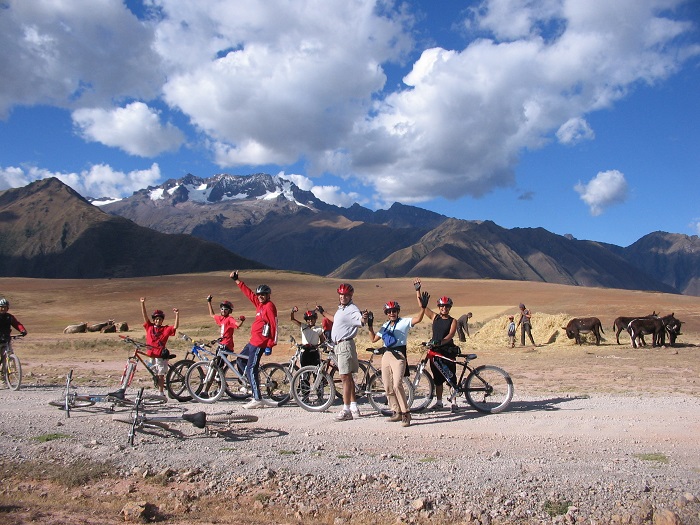 Family Peru
an action-packed, culturally rich, multi-activity adventure for all ages through Peru's heartland
A 9 day itinerary crafted by our partners Amazonas Explorer, and tested by their children. With paddle-boarding, chocolate making, biking, canoeing and hiking mixed into wonderful cultural experiences, this trip will appeal to active travellers of all ages. Suitable for over 8's.
To enquire about this itinerary, or one like it, please email us or click the Enquire button.
Itinerary summary
The Sacred Valley
Days 1-2: Overnight flight, via Bogotá, to Cusco and driven (90 minutes) to the Sacred Valley. Your first afternoon will include a visit to a local potter with a chance to create your own masterpiece.
Days 3-4: Two further days in the Sacred Valley will allow time for a dirt road bike ride to the famous market at Pisac, and also stand up paddle-boarding, a chance to cook a traditional Peruvian meal - a Pachamanca, where meat and vegetables are cooked on hot stones in a hole in the ground - and visit the salt pans of Maras.
The one day Inca Trail to Machu Picchu
Days 5-6: Take the train from Ollantaytambo, with its impressive fortress, to Km 104 for the start of the so-called One day Inca Trail (5 hours, and lots of steps!). When you finally arrive at the Sun Gate the Machu Picchu site is spread out below you. After a night in Aguas Calientes you return the following morning for a guided tour of the citadel and the chance to hike up vertiginous Huayna Picchu. In the afternoon you take the train back to Cusco where you stay for 3 nights.
Cusco and surrounds
Days 7-8: Spend 2 busy days in and around Cusco! Visit the Inca ruins of Sachsayhuaman, with tunnels and caves to explore before walking (downhill) back to Cusco to learn about chocolate making and visit the chocolate museum. The following day you will go canoeing and visit an animal sanctuary - home to a variety of rescued animals, this is the ideal place to see native Peruvian animals such as condors, pumas, macaws and the Peruvian hairless dog.
Day 9: Free morning in this beautiful city and a chance to buy some souvenirs, before flying (1 hour) back to Lima and onward connections.
Go further
Many family-friendly extensions are possible - from the Amazon jungle, or perhaps a stay with a local family on one of Lake Titicaca's islands.
Notes:
Amazonas Explorer are an English company, based in Peru, who have rapidly achieved a reputation for the professionalism of their off-the-beaten-track adventure and family trips, which include white-water rafting (from easy to extreme), trekking, and mountain biking.
Accommodation options
In the following section you will see our suggested options for possible accommodation.
The estimated flight cost included in this itinerary (assuming international flights from the UK plus any internal flights that are necessary) is £1,260 per person.
Standard - £3,870
Casa San Blas - A friendly hotel in the artisan district of San Blas and within walking distance of the main sights.
El Mapi - a stylish yet good value hotel in Aguas Calientes, with spacious communal areas and a friendly atmosphere.
Price and validity notes
We have tried to give you as accurate an idea of prices as possible, including meals where appropriate (but not when there are good local options so you don't pay for a meal that you might not want), accommodation, transfers, and any tours we have included.
All prices are per person based on two people sharing a room and are intended as a guide (local high or low seasons can cause some variation). All prices were correct when published but may vary with exchange rate fluctuations, fuel surcharges, or changes in the general economic situation.