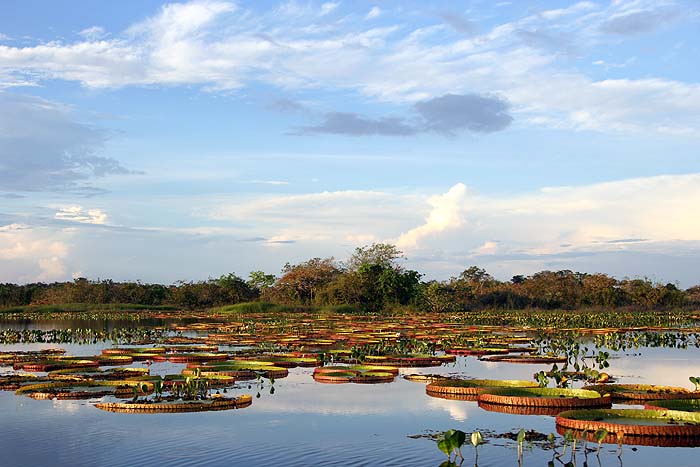 Guyana and Suriname
rare and amazing wildlife, mighty waterfalls and unique cultures on South America's north-eastern shoulder
This 14 day itinerary is a comprehensive circuit including the highlights of Guyana and an introduction to Suriname, with its unique Maroon communities.
To enquire about this itinerary, or one like it, please email us or click the Enquire button.
Itinerary summary
Guyana - Georgetown and Kaieteur Falls
Days 1-2: Arrive into Georgetown, on the edge of the Demerara river, and stay two nights allowing time to take an overflight of Kaieteur Falls with its 741 foot single drop and Orinduik Falls, where the Ireng River thunders over steps and terraces of solid jasper, a semi precious stone.
The Rupununi: rivers and savanna
Days 3-4: Fly south to Lethem and driven (2-3 hours) to Karanambu for a two night stay with the chance to see some orphan giant river otters, or their wild cousins. Varied excursions are undertaken, including excellent bird-watching, a boat excursion to see Victoria Amazonica lilies at dusk, or savanna jeep trips where giant anteaters are often spotted.
Surama and Iwokrama: community tourism, jungle and jaguars
Days 5-7: Travel north by boat to the village of Surama, where the women of the village have a successful cassava (yuca) factory, you can visit the school, or take walks or boat rides into the forest and across the savanna. Within the Iwokrama Forest Reserve, visit the Iwokrama canopy walkway, with good wildlife-viewing opportunities, while the Pakaraima mountains offer wonderful views across the savanna.
Georgetown
Day 8: Fly back to Georgetown for a final night and time to visit the city, museums and famous Stabroek market.
Suriname - Paramaribo - architecture
Day 9: Fly east to Suriname, a former Dutch colony whose vibrant capital is Paramaribo, a UNESCO World Heritage Site with magnificent architecture, and stay a night. The city has many historical buildings including the renovated Presidential Palace, the mosque and synagogue and also an amazing Hindi temple, bustling central market and impressive palm gardens.
Maroon villages - rainforest and culture
Days 10-11: Travel south by road and motorised canoe, passing several small villages and through breathtaking scenery into the rainforest for two nights at the foot of Ferulassi Falls. A visit to the Maroon villages to understand their culture (they are descended from escaped slaves) and ancient West African traditions is a unique experience. Visit a local school, learn about the use of local medicinal plants and enjoy their traditional dancing.
Paramaribo - abandoned plantations and dolphins
Days 12-14: Return to Paramaribo for the final two nights. Many of the former colonial plantations outside the city are now abandoned but you can still see coffee and cocoa plants and an ancient shed and factory at the Peperpot plantation originally established by the English. At the confluence of the Commewijne and Suriname Rivers, at Nieuw Amsterdam, visit the outdoor museum, Fort Nieuw Amsterdam, where a large fortress was built as a defence for the fields of crops grown along the upper parts of both rivers, and you can also hope to see dolphins as the sun starts to go down. On the last day transfer to the airport for onward connections.
Go further - French Guiana (Guyane)
If you have time and budget (French Guiana is expensive), you could add a few days from Paramaribo, crossing by land at Saint Laurent Du Maroni. You would need two nights in Cayenne, the administrative and commercial centre of French Guiana, from where you could visit a local H'mong village in the jungle with a market and plantations. Two nights in Kourou would give you time to visit the Guiana Space Centre and sail around Devil's Island (actually triangle of three islands known as the Îles du Salut), seven miles off the coast.
Accommodation options
In the following section you will see our suggested options for possible accommodation.
The estimated flight cost included in this itinerary (assuming international flights from the UK plus any internal flights that are necessary) is £910 per person.
Standard - £7,530 based on joining a group departure
Price and validity notes
We have tried to give you as accurate an idea of prices as possible, including meals where appropriate (but not when there are good local options so you don't pay for a meal that you might not want), accommodation, transfers, and any tours we have included.
All prices are per person based on two people sharing a room and are intended as a guide (local high or low seasons can cause some variation). All prices were correct when published but may vary with exchange rate fluctuations, fuel surcharges, or changes in the general economic situation.