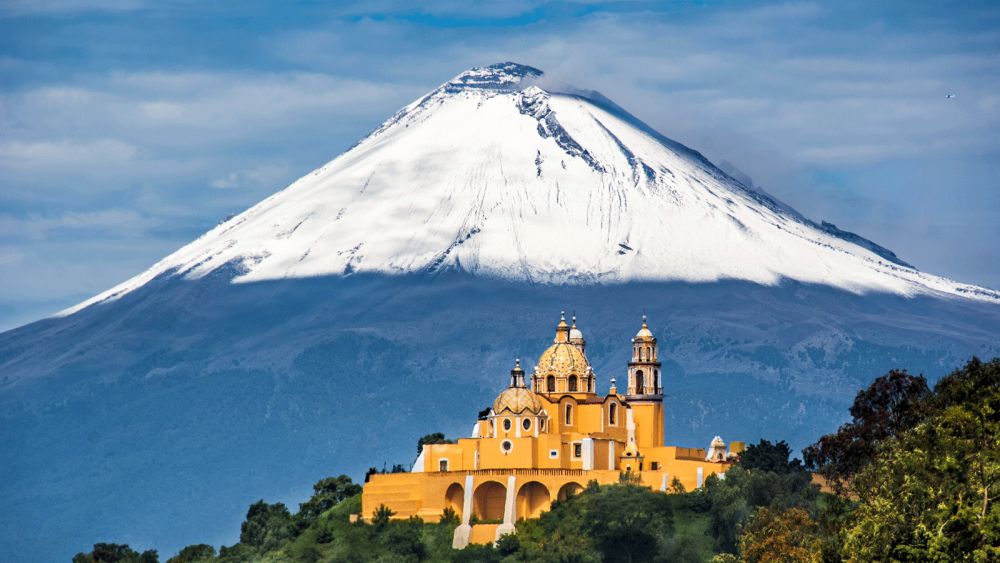 Mexico: Total solar eclipse
with Oxford's Professor of Astrophysics
2-15 April 2024: Experience the total solar eclipse of 8 April 2024, tour Mexico's colonial heartlands, visit Puebla's observatories and learn from fascinating lectures by Oxford University's Professor Roger Davies.
To enquire about this itinerary, or one like it, please email us or click the Enquire button.
Itinerary summary
Tuesday 2 April 2024 - Arrival day (Mexico City): Transfer to hotel. For UK participants, we will meet the non-stop flight from London Heathrow with British Airways which arrives in Mexico City around 8pm. Other flights can be met on request.
Mexico City
3-4 April: Founded in 1521 on the ashes of the Aztec island citadel of Tenochtitlán, Mexico City has fine colonial architecture with excellent museums, galleries, markets, cathedrals and plazas. Spend 3 nights at the Histórico Central, a short walk from the central square (zócalo) with its cathedral and National Palace. Visit the Anthropological Museum, Templo Mayor, and the colourful floating gardens of Xochimilco.
Saltillo
Friday 5 April: Fly to Monterrey and drive west to Saltillo, the capital city of Coahuila state, known for its beautiful colonial architecture and spend 1 night at the Hotel Urdiñola.
Visit the Museo del Desierto, with a fascinating collection of plant and animal fossils recently discovered in the region.
Torreón - solar eclipse
6-8 April: Drive 150km west to Parras de la Fuente for a visit and lunch at Casa Madero winery, founded in 1597 and the oldest in the Americas. Continue a further 160km to Torreón, where you spend 3 nights at the Wyndham Hotel.
Visit Mapimí, an historic coal mining town, and the ghost town and mine of Ojuela, approached by the third-largest suspension bridge in Latin America.
On 8 April experience the total solar eclipse from the hotel, which is very close to the centreline. The eclipse starts at 1100 and finishes at 1341, with totality from 1217 to 1221 (4'15"). Torreón has the lowest average cloud cover of any point on the eclipse path.
Cuernavaca
9-10 April: Fly back to Mexico City and drive 85km south to Cuernavaca, named the "City of Eternal Spring" by Alexander von Humboldt and used as a summer escape since Aztec times. Spend 2 nights at the comfortable Fiesta Inn Cuernavaca, ideally placed to tour the cathedral, Borda Gardens and frescos of the Cortes Palace.
Visit Malinalco, 60km west of Cuernavaca and one of the most impressive Aztec sites, with a fortress uniquely carved directly from bedrock, and then Xochicalco, 30km south of Cuernavaca. Apart from temples and a ball court, this Maya site has an impressive carved pyramid which depicts, among other figures, astronomers. Within the fortified complex is a cave converted into a solar observatory, which may have been used to predict eclipses.
Puebla
11-13 April: Drive to Puebla, via the Olmec site of Chalcatzingo, known in particular for the more than 30 reliefs carved into the rock of an imposing hill towering over the site. Spend 3 nights at the Hotel Colonial de Puebla. Puebla is a UNESCO world heritage site, lying in a valley surrounded by four volcanos: Popocatépetl and Iztaccíhuatl are active, while La Malinche and Pico de Orizaba are dormant. The architectural style is both Renaissance and Mexican Baroque, with many buildings painted in bright blues, reds, and yellows.
Mexico's National Institute of Astrophysics, Optics and Electronics (INAOE) has its campus in Puebla and have kindly invited the group to visit the faculty, where Roger will give a talk. We also plan to visit the Large Millimeter Telescope (LMT) and the High Altitude Water Cherenkov (HAWC), a gamma-ray observatory, both of which are on the flanks of Pico de Orizaba volcano.
Teotihuacán
Sunday 14 April: Drive to Teotihuacán for a final day at the pre-Aztec archaeological site that was once the largest metropolis in the Americas. The site covers 8 square miles, was built around 100AD, and has pyramids honouring both the sun and the moon, a fitting end to this trip! Overnight at the Villas Teotihuacán Hotel & Spa.
Monday 15 April - Departure day
An optional balloon ride may be offered, before driving to Mexico City for homeward or onward connections.
Notes:
Prices start at £4,890 per person sharing a double/twin room, including internal but not international flights. Do contact us for availability, single supplements, flight quotes, and booking conditions.
The trip scholar is Professor Roger Davies, Professor Emeritus Philip Wetton Chair of Astrophysics at the University of Oxford. See our trip scholar pages for further details.
This tour is for alumni of either Oxford or Cambridge Universities or those with a close connection to either.
The outline presented here was accurate when printed in March 2023 but we may need to add or omit visits; alter the length of stay in each place; or change routings to make the best connections. We reserve the right to substitute the trip scholar if they are unable to travel for reasons outside our control.