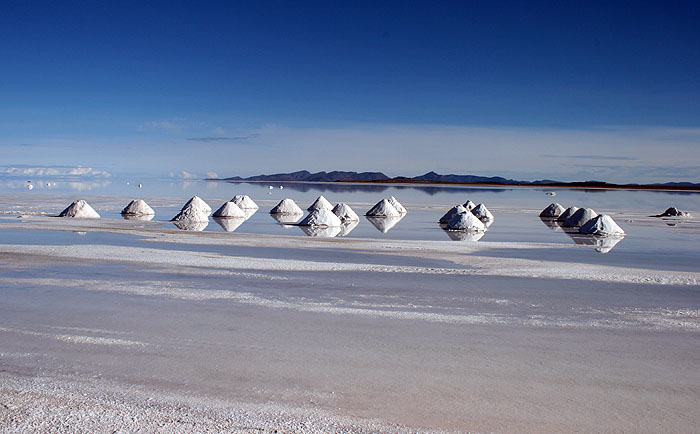 Andean treasures of Bolivia
silver mines, sculpted canyons, vineyards, and salt flats
This 12 day itinerary is an in-depth journey through the Andes and lush valleys of Bolivia visiting vibrant colonial cities, silver mines, and vineyards. Visit impressive canyons with colourful rock formations and dinosaur footprints and finish in Uyuni with the option to explore the salt flats.
To enquire about this itinerary, or one like it, please email us or click the Enquire button.
Itinerary summary
La Paz
Days 1-2: La Paz is the world's highest capital. Built 3,600m above sea-level and nestled high in the Andes, it is famous for the Mercado de Hechecería (witches' market) and also has several fine museums documenting the country's colonial past. Spend two nights here taking time to acclimatise and visit the nearby Valley of the Moon.
Torotoro National Park - canyons and dinosaur footprints
Days 3-4: Take a short flight to Cochabamba and driven (130km, about 3.5 hours) to the fascinating Torotoro National Park for a two night stay. Visit the turtle grave, the impressive Torotoro canyon, spot dinosaur footprints, and admire sculpted rocks and the Vergel garden with its beautiful river and waterfall. A full day will be spent visiting the Stone city of Itas (about a 1.5 hour journey from Torotoro village), with its panoramic views of the region and interesting walking trails, and the giant Umajalante cave where a 2 hour hike leads one to an area of towering stalagmites and stalactites with an interior lake.
Sucre - white city
Days 5-6: Return to Cochabamba, with a stop at the village of Tarata, for the short flight to the colonial city of Sucre. A two night stay allows time to explore this flamboyant city, declared a World Heritage site by UNESCO, with its many beautiful buildings, and visit the nearby village of Tarabuco where a lively Sunday market is held.
Potosí - silver mines
Days 7-8: At just over 4,000m Potosí is a two hour drive south-west of Sucre. Stay two nights in a beautifully resorted 16th century hacienda outside of the city. Visit the Cerro Rico silver mine, once the jewel of the Spanish conquest, the country's first mint (the Casa de Moneda), wander the narrow streets, admire colonial architecture and visit museums.
Cinti Valley, Tarija and Tupiza - vineyards and colourful rocks
Days 9-10: On a full day journey to Tarija (380km from Potosí) travel through the beautiful Cinti Valley (2,400m) with vineyards situated along the river and colourful mountains. The Spanish conquerors first introduced the growing of grapes in this region to produce a local brandy called Singani, which was warming during winter on cold nights in the highlands and enjoyed by those that worked in the silver mines. After a night in Tarija follow the wine route south to Tupiza where grape plantations and wineries produce excellent wines including Cabernet, Syrah, Malbec, Riesling and others at an altitude of 1,840m. A wine and cheese tasting is included on both days and before arrival to Tupiza visit the Tajzara lagoon, with its sandy hills and flamingos.
Uyuni
Days 11-12: Driven along the paved road (200km) to the small town of Uyuni and stay overnight before flying to La Paz for onward connections.
Go further - Salt flats, lagoons and desert and connections to Chile
Depart Uyuni on a guided 4x4 overland adventure through the Salar de Uyuni and Andean plateau. Highlights will include Isla Pescado, the Chiguana desert, pink flamingos at Laguna Hediona, the coloured rock formations of the 'Salvador Dali' desert, Isla Incahuasi and Laguna Verde. The hotels are all built in keeping with the region using local materials and the first night is spent at a salt hotel on the edge of the salt flats.
Overland connections are possible to San Pedro de Atacama in Chile after the Salar de Uyuni adventure.
Accommodation options
In the following section you will see our suggested options for possible accommodation.
The estimated flight cost included in this itinerary (assuming international flights from the UK plus any internal flights that are necessary) is £1,165 per person.
Price and validity notes
We have tried to give you as accurate an idea of prices as possible, including meals where appropriate (but not when there are good local options so you don't pay for a meal that you might not want), accommodation, transfers, and any tours we have included.
All prices are per person based on two people sharing a room and are intended as a guide (local high or low seasons can cause some variation). All prices were correct when published but may vary with exchange rate fluctuations, fuel surcharges, or changes in the general economic situation.