Wildlife-rich islands in the southern ocean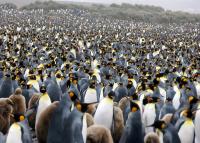 South Georgia has one of the highest concentrations of wildlife in the world. Colourful king penguins crowd the beach at Salisbury Plain against a snow-covered backdrop of towering mountains and glaciers. The beaches are packed with an estimated 2 million noisy fur seals, and there are also some 300,000 elephant seals.
Grytviken was once the hub of the South Atlantic whaling industry, and is also the burial place of Sir Ernest Shackleton, whose epic escape from an ice-bound Endurance (800 miles of open ocean in a small boat, followed by a mountain crossing via an uncharted route) ended here. The majestic wandering albatross is one of four species to make Albatross Island their home.