It has been several years since my last visit to Rio and, as I discovered, a lot has changed. Yes, there are still the iconic sights of Sugar Loaf and Corcovado but there is so much more to the city that a few days spent there only just scratches the surface. In the run up to 2016 Rio received a lot of investment and infrastructure was improved ready to host the Olympics. Years on it is to the benefit of tourists and residents alike. Here, I summarise the must-see parts of the city so you can make the most of your time in remarkable Rio.
Sugar Loaf and Corcovado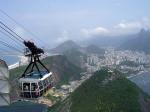 Sugar Loaf Cable Car
Let's start with the two main sights that nobody should miss - Sugar Loaf and Corcovado can be visited as two half day excursions or a combined full day tour. The journey to the top of Sugar Loaf involves taking two cable cars. The first takes you as far as Urca Hill which is 215 meters above sea level with great views of Guanabara Bay and the surrounding islands. The second cable car is to Sugar Loaf itself which offers a 360 degree view of the entire city - if you have a clear day this is a magical sight! It is possible, if you are feeling adventurous, to take a hiking trail and rock climb to reach the top of Sugar Loaf before returning by cable car.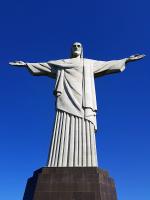 Christ the Redeemer
The Statue of Christ sits at the top of Corcovado Mountain, 700 meters above sea level. A small train climbs the mountainside and the left hand side offers the best views. Once off the train it is a bit of a walk to the base of the statue, over quite a few steps, so be prepared for a bit of exercise! However, the view is more than enough to reward your effort and nobody can fail to be impressed by the enormity of the statue. Top tip - try to visit Corcovado as early in the day as possible as it will be quieter.
Port Region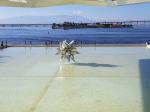 Museum of Tomorrow
This whole area was fully renovated for the 2016 Olympics, and is still viewed as an up and coming area. The first place to visit is the Museum of Tomorrow. Although it's a science museum and not specifically geared towards anything Brazilian, it is well worth a visit if only for the architecture. The museum was designed by neo-futuristic architect Santiago Calatrava and the shape was inspired by the bromeliads in the Botanic Gardens of Rio. The exhibits are interactive and although mostly in Portuguese, it offers a clear understanding of how man has had an impact on the planet and what the future could hold.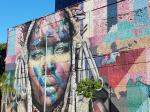 Graffiti by Kobra
From outside the Museum of Tomorrow, walk along the pedestrianised Olympic Boulevard where much time can be spent admiring the detailed graffiti decorating the walls. The boulevard used to have a highway running above but this was moved to a tunnel below your feet as part of the city's rejuvenation for the Olympics. The International Olympic Committee commissioned graffiti artist Kobra to create a mural along the boulevard to celebrate the 2016 games and he chose to represent native people from each continent - the result is incredible.
Carnival Tour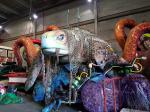 Rio Grande Samba School
Rio is well known for its loud, colourful and over the top carnival. Some tourists like to take part (yes, it is possible) and others prefer to hear very little about it. However, there is a happy medium of taking part in a behind the scenes carnival tour of one of the samba schools. I visited the warehouse of Grande Rio Samba School and have to admit I, and my fellow travellers, were a little apprehensive of being made to dance and pushed too far out of our comfort zones. We couldn't have been more wrong! It started off with an in depth tour of the warehouse to see old props - the size of floats used in the parades is immense. We were explained about the history and what happens through the planning process, and when. This eased us into the samba swing of things and after a caipirinha and the sound of samba drums coming from the next room, we were happy to take part in some dancing and drumming. It honestly turned out to be a highlight for us all and is highly recommended for a group of friends or family!
Hidden Gastronomic Delights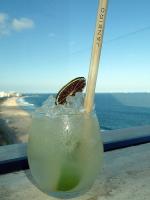 A refreshing caipirinha
Food is a big part of Brazilian culure but without the right guide, visitors to Rio don't have much chance of finding hidden gems of good quality local bars and restaurants where you are unlikely to cross paths with fellow travellers. A food tour can be tailored to your interests but I experienced a snap shot of this by eating a tasty meal at a local restaurant followed by excellent caipirinhas at a nearby bar. Our guide also brought along some obscure local fruits to sample and the evening was a real insight into the food and nightlife of the cariochas. If you're not so much of a night owl then a food tour can be done during the day, so you can visit a local market and shops before enjoying lunch.
There are of course so many other parts of Rio to explore but I would be writing this for days! Tijuca forest, the botanical gardens, a boat tour along Guanabara Bay, visits to Prainha and Grumari beaches, Santa Teresa neighbourhood and bike tours are just a few to mention - do contact us for more ideas on Rio or elsewhere in Brazil.
https://www.lastfrontiers.com/brazil/regions/rio-de-janeiro