Whenever possible, we always suggest being based outside Mendoza city and closer to the wineries, to make the most of the region. I visited three key wine valleys, each differing in altitude and climate, and therefore offering a variety of complexities to wine production. Maipu Valley is south-east of Mendoza and Lujan de Cuyo is to the south-west - both of these valleys are classed as the Northern Zone. The furthest valley I visited (around 90 minutes from Mendoza) is called Uco which is classed as the Central Zone. I had a whistle stop tour of the two zones and many hotels, allowing me to compare them all.
Northern Zone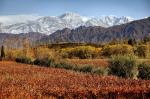 Lujan de Cuyo
Maipu and Lujan de Cuyo valleys are in the highest area of the Mendoza River and where a variety of grapes have adapted and grow well. The area has low annual rainfall but the river provides a plentiful source of meltwater for irrigation. Fruity whites and young reds are commonly produced, all very tasty.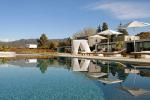 Entre Cielos
Entre Cielos and Cavas Wine Lodge were my favourite hotels in this area. Both are reasonably close to the airport for those who want to keep travel to a minimum, and there are many wineries to visit. They are both tastefully designed and decorated, offering a splash of luxury without too much effort in getting there. There are also some simple but charming posadas to opt for in the area, usually family run.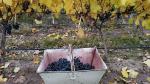 Grape harvest
I visited three wineries and couldn't pick a favourite - they were all so good yet different! Alta Vista offers an amazing picnic lunch on their lawn accompanied by their wine and this can be taken either before or after a tour of the winery. The picnic lunch is a welcome break from the heavy lunches received at many of the other wineries! Achaval Ferrer is small with very informative and fun tastings, and Melipal is a modern winery with a delicious five course lunch, each course matched to one of their wines (tip: have a light breakfast on this day!). It really is difficult to find a bad winery in this area and there are so many to choose from ranging in size; you could even walk or cycle to some, depending on where you stay.
Central Zone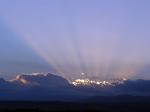 Sunset over the Uco valley
In the Tunuyan river basin the landscape is dominated by Tupungato volcano and the area is characterised as being the coldest and highest in Mendoza. The valley therefore produces high altitude wines which have intense colour and tannins. In the summer months the high temperatures increase colour and aroma intensity, while the cooler evenings preserve acidity.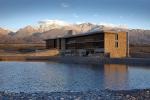 Casa de Uco
The Uco Valley has received a lot of investment over recent years with new wineries and hotels. Modern technology is also at the forefront of wine production here, to improve efficiency, cost effectiveness and production. I stayed at Casa de Uco which has stunning views to the Andes and impeccable service. It feels very new but fits in perfectly with the valley. I had a go at harvesting some grapes, something which many hotels encourage if you are there at the right time of year (March/April).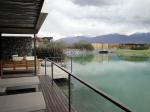 The Vines
Nearby, the top choice for a luxury hotel is The Vines, a collection of one and two-bedroom villas. The weather wasn't the best when I was there but it didn't dampen my spirit - I was lucky enough to enjoy lunch at Siete Fuegos restaurant which was simply divine. The area as a whole is further from Mendoza but it feels more remote and the mountains are pretty much on your doorstep! Why not get up early one morning and go for a horse ride at the foot of the Andes for sunrise? Spectacular! One of the most famous wineries in this region is Salentein and well worth a visit. The winery is vast and the posada is less hotel-like so feels quite relaxed.
In conclusion I enjoyed all the areas of the Mendoza region I visited but if I had to choose my favourite, it would have to be the Uco Valley for being so close to the mountains and having stunning views of the clouds hovering over the Andes. I also have great memories of harvesting some grapes which was a fun experience!