After an epic couple of weeks travelling Chile from tip to toe, I left Torres del Paine National Park and headed north across the barren border to Argentina. Having lived in Buenos Aires for three incredible years, I was thrilled about the prospect of finally heading back. Yet before reaching the bohemian, sunny capital with which I fell in love, I was to spend 3 nights in the very different surroundings of El Calafate.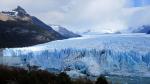 Perito Moreno Glaciar
Considering the vast size of Patagonia, El Calafate is, by comparison, a small speck of dust in its steppe-land. A good three hours flight from Buenos Aires, or five hours of driving through desert from Torres del Paine, and you will eventually reach the town of El Calafate.
Which upon arriving, you may well ask yourself 'I came all this way - for this??'. No. You, like nearly everybody else in El Calafate are probably there to see the nearby Perito Moreno glacier. A monumental body of ice 5km wide, 170km deep and - miraculously in this day and age - still advancing.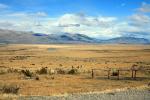 The real Patagonia
Yet if you travelled here for just the glacier, you're missing out. So I am here to argue the case for doing what few others do - and that's really explore Patagonia. Which starts with choosing not to stay in El Calafate's town centre but on the outskirts. And doing so for more than the typical two nights. Only by doing this, by walking out the front door into the great and utterly deserted outdoors, will you experience the incredible feeling of complete solitude and being swamped by the sheer expanse of scenery around you.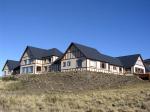 The Eolo
Top of my recommendation of places to experience this is the Eolo; a truly sumptuous lodge with just 17 rooms. It is everything you would expect (and more) from a Relais and Chateux property. From the pitch prefect service (with staff able to pre-empt every whim without being overbearing) to the exquisite food and panoramic windows in every room, no detail has been left amiss.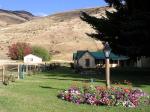 Estanica Nibepo Aike
But perhaps you're not fussed about luxury and would prefer an authentic stay on a working estancia? In which case, I'd suggest strapping yourself into the saddle and exploring the vast outdoors on horse-back from Estancia Nibepo Aike. Full of character, the staff will help you to feel right at 'home-on-the-range'.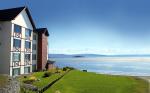 Xelena's idylic location
Or, if a spa retreat sounds just the ticket after spending a day out in the cold and windy weather typical of the region, then the Xelena is an excellent option. Sitting right on the shores of Lake Argentino, you'll be able to treat yourself to any number of spa treatments and massages, swim, or simply take in the views from the hot-tub as you feel every muscle relax.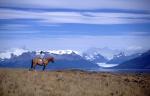 Now that I've hopefully made the advantages of staying out of town clear - let me now explain why staying a couple of nights just won't cut it. First is that you won't have the opportunity to really 'see' Patagonia. Yes, you could have the one night whistle-stop tour of Perito Moreno but it's a very long way to travel just to see a glacier (impressive though it is and indeed a highlight not to be missed). If this is just your aim, then by all means stay in town as most other passers-by do. But if you want to truly explore Patagonia, understand what it's like to live here and enjoy the feeling of being swamped by the sheer magnitude and expanse of scenery around you, you will need to stay out of town for a good 3-4 night's minimum. That way, you can not only spend a full day at the Perito Moreno but also hike, ride, bird-watch or perhaps even have a bash as sheep-shearing to better appreciate your stunning natural surroundings.
And for those who really thrive in the great outdoors and enjoy a good walk (or serious climb) then I'd suggest extending your trip and venturing over to nearby El Chalten (3 hours drive away). This growing mecca for trekkers makes an excellent add-on to time spent in El Calafate.

Only then will I let you travel onwards and upwards to Buenos Aires (or wherever else you wish to visit) - for I am 100% sure that this really is the best way to appreciate El Calafate.
And so it was that after this epic trip, I headed back to the city which has always felt most like home. The buzzing metropolis of BA (aka "The Paris of South America)'
As I came into land I felt that familiar feeling of relief wash over me - I'm not sure why but the city always has this effect on me. The gregarious friendly porteños, almost guaranteed sunshine and general happy hubbub always brings a smile to my face. Alas, I had just one night here - but it was enough to fit in a few hotel visits and have dinner with old friends before heading home.