The vast Atacama desert is one of the driest places in the world. From the picturesque oasis village of San Pedro de Atacama, whose church is roofed with cactus wood, many of the desert's most dramatic sights are within reach.
Atacama Desert, Chile in the Sunday Telegraph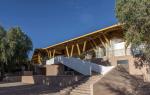 Explora en Atacama
Last Frontiers offers an eleven night holiday including two nights in Valparaiso, four nights in the Atacama Desert at the Explora Hotel and two nights in the Cajon del Maipo region near Santiago. It costs from £3,565 per person including flights, transfers, breakfast throughout and full board at Explora with a full range of activities too.