On this leg of his trip Michael Palin starts in the mineral-rich state of Minais Gerais, visiting an old gold mine and an opencast iron ore mine, which is fuelling Brazil's current economic boom. He continues to Rio, host to the 2014 World Cup and 2016 Olympics, where he spends some time in the favelas and a night in an infamous "love hotel".
Minais Gerais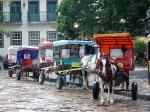 Horse-drawn carriages in Tiradentes
In Minais Gerais, where intense mining of precious stones and gold, took place in the 18th century, Palin visits an old gold mine once owned by the British and also a vast opencast iron ore mine. Iron ore deposits are creating great wealth in Brazil but there are obvious concerns about the environmental factor. For our clients the area is particularly interesting for its beautiful well preserved colonial towns, built with the profits from its mineral riches, which are an ideal base from which to explore the region and its stunning National Parks with mountains, valleys, caves and waterfalls.
Rio de Janeiro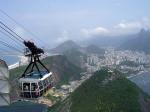 The Sugar Loaf cable car
Rio needs little introduction and is well known as a party town. However, away from the Copacabana beachfront, drug gangs controlled the shanty towns (favelas) but now, the authorities have decided to spend some money on 'pacification' to drive the drug gangs out and fund new infrastructure and social programmes in the favelas. Michael also visits some of Rio's tourist highlights and books a room in one of the city's infamous 'love hotels'!