Follow Dr Jago Cooper, curator of the Americas section in the British museum, on his travels through Ecuador and Peru to reassess the origins, accomplishments and nature of one of the greatest empires the world has ever seen.
Episode 1: Foundations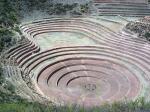 The Inca terraces of Moray
In the first episode, Jago begins in Peru and reassesses the achievements of the Inca Empire. Venturing from the coast to the clouds, he reveals how the Inca transformed one of the most challenging landscapes in the world to ward off the worst effects of the climate, and created sophisticated systems of communication. He shows how one of many independent societies became a commanding empire - not through force, but by using subtle methods of persuasion.
Part 2: Clash of Empires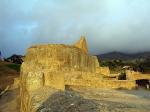 Ingapirca Inca walls
In the concluding episode, Jago travels from Peru to the far north of Inca territory in Ecuador to reveal how the great strengths of the Inca empire suddenly became factors in its rapid demise. The Spanish conquest destroyed one of the most remarkable empires in the world, yet the Inca legacy leaves a great deal for modern civilisations to learn from.
Follow in his footsteps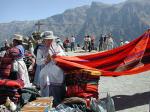 Weavers by the road in the Colca Valley, Peru
For a similar trip to Jago's, have a look at our Classic Peru itinerary. Starting in Lima and journeying through the majestic Andes to the birthplace of the Incas, andean villages and the Inca citadel of Machu Picchu ending in the beautiful Sacred Valley. This itinerary takes in many of Peru's impressive Inca ruins, colourful markets and beautiful colonial cites on the way.
For inspiration on travel to Ecuador, do look at our Classic Ecuador itinerary. It includes visits to the beautiful colonial cities of Quito and Cuenca, the countryside of the northern sierra, along the renowned 'Avenue of the Volcanoes' and the verdant Amazon jungle.
As always, contact us for your own tailor-made holiday!
Tune in to BBC Four on Monday 5 January at 10pm, and Thursday 15 January at 9pm to watch!