Earlier this year Laura Fowler travelled with Last Frontiers to the Brazilian state of Bahia.
Bahia and the north-east is the place to discover Afro-Brazilian culture - from capoeira martial arts and candomblé religious ceremonies to the hip-swinging rhythms of the samba and bossa nova. Cities such as São Luis, Salvador and Belém have some of the best-preserved colonial buildings in South America, a reminder of the huge wealth amassed on the back of slave labour to satisfy the European appetite for sugar, tobacco and rubber.
Pool, beach and sun loungers at Casa Beija Flor
There are miles of coastline to explore, luxury hotels housed in colonial buildings, private villas, tabletop mountains and Atlantic rainforest.
Laura and her husband stayed at several private villas, including Casa Beija Flor, a 5 bedroom villa right on the beach near the village of Canavieras. We offer villas of different sizes all over Brazil - ideal for a gathering of friends or family groups celebrating a special occasion or simply if you prefer the extra privacy.
Some of our favourites are Casarao Amarelo in Paraty and Villa Boipeba on the island of Boipeba.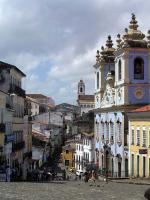 Salvador's Pelourinho district
Our suggested 10 day trip includes 3 nights in Salvador, 2 nights in Trancoso and 3 nights on Boipeba, staying at Convento do Carmo and Villa Bahia in Salvador, Pousada Santa Clara on Boipeba and Casa Uxua in Trancoso. Prices start from £3,470 per person based on two people travelling and include international flights from London via Madrid to Salvador on Air Europa (overnight on the return), internal flights, private transfers and breakfasts.
This itinerary is just a suggestion – we can arrange bespoke trips to Bahia, the rest of Brazil or indeed other parts of Latin America. With our in-depth knowledge of the region and passion for Latin America we can help put together the perfect holiday for you.
For Laura's full article online see here.
Please contact us on 01296 653000 or info@lastfrontiers.com
"We had the most fantastic time in Brazil, everything went according to plan and we felt well looked-after from start to finish. We were very impressed with the care shown by Last Frontiers and will definitely use your services again in the future."