Last Frontiers sent journalist Dan Linstead and his family (his wife and two children aged 8 and 11) on a wonderful two and a half week trip to Brazil last year - a fantastic destination for families of all ages with its easy direct flights from London and only a minimal time difference (only 3 hours behind GMT).
Dan and his family enjoyed the many sites the 'Marvellous City' Rio de Janeiro has to offer before time relaxing at a private house on the coast, a couple of days on a traditional farm and finally the amazing sight of the Iguassu Falls.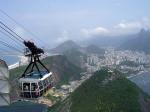 Sugarloaf Mountain
Dan and his family spent five nights at the sumptuous Belmond Copacabana Palace hotel (sitting next to Arnold Schwarzenegger at breakfast!) in Rio and spent time exploring the city - taking a drive through the lush Tijuca Forest, and wowing at the magnificent views from both the statue of Christ the Redeemer and Sugarloaf mountain. They also visited a favela, the Botanical Gardens and the new Museum of Tomorrow (built just in time for last year's Olympics).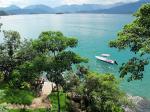 The view from Casa Cairuçu
They then headed along the Costa Verde to the little colonial gem of Paraty with its cobblestone streets for a night at Pousada Literaria.
Next was a boat ride to Casa Cairuçu, a three bedroomed haven hidden away on the Ponta Gossa peninsula looking out through Mata Atlantica to the tropical islands in the Paraty Bay. This is a home from home, where housemaid Adriana comes and cooks your meals (we send guests shopping list in advance) and days can be spent swimming or paddle boarding, visiting local beaches or hiring a boat.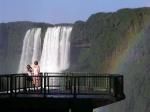 Iguassu Falls
From the coast they headed inland towards Sao Paulo, stopping at Fazenda Catuçaba, a former coffee estate comprising of 450 hectares where they could explore the rolling hills on horseback, swim in the lake or just relax.
After a short flight to Iguaçu from Sao Paulo a final few nights were spent at another Belmond property - Das Cataratas, on the Brazilian side of the Iguassu Falls and the only hotel within the National Park.
Our suggested Brazil trip following in the footsteps of Dan and his family starts at £2,940 per person based on two people travelling and includes international flights from London with British Airways, internal flight from Sao Paulo to Iguacu, bed and breakfast accommodation throughout and private transfers. This is based on 3 nights in Rio at the Windsor Miramar, 5 nights at Casa Cairucu and 3 nights at Iguacu at the Mabu Foz.
For other itinerary suggestions please see www.lastfrontiers.com/brazil/itineraries or email us at info@lastfrontiers.com or call 01296 653000 to discuss a tailor made trip.
"The villa was as lovely as we hoped and we had a great time there" - MG
"The fazenda was a great place to end and the staff could not have made us more welcome. We only had two nights but would have loved an extra one, giving us more time to walk up into the hills and to the waterfall" - JH
"Iguassu and The Belmond were just fantastic - the Falls must be one of the natural wonders of the world - and the hotel couldn't be bettered - we loved the fact that we could literally have the Falls to ourselves once the park was closed and before it opened the next morning" - NC
As featured in Family Traveller (October 2016), Wanderlust (February 2017) and The Week (March 2017)