Last Frontiers sent journalist David Rose and his family on a wonderful three week adventure around Costa Rica. A fantastic destination for visitors of all ages and interests, this verdant and largely forested country offers an abundance of outdoor activities throughout its numerous national parks and private reserves.
Direct flights from London Gatwick with British Airways make it easy to get to and, due to its relatively small size, the country can be explored in-depth in a matter of weeks.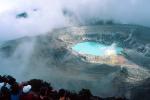 Poas volcano
On arrival at San Jose international airport David and his family were driven to Poas for their first few nights at Poas Volcano lodge . On a clear day the lodge offers stunning views over Poas crater lake and, set amid lovely gardens and surrounded by farmland, the lodge was originally built by an English family as their home. Delightfully warm and cosy, it makes a great place to relax after a long flight.
Next stop were the canals of Tortuguero on the Caribbean coast, which the Rose family explored from Manatus Lodge. A selection of excursions are included by the lodge, such as motorised canoe trips along the canals in search of wildlife. If you are lucky enough to visit between June and October there is also the possibility of witnessing green turtles arriving on the beach to lay their eggs.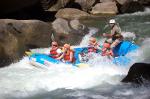 Rafting on the Pacuare river
From Tortuguero the next adventure began with a wet and wild rafting trip to one of our Last Frontiers' favourites Pacuare Lodge. Remote and usually accessed by raft (though land transfers can be arrnaged) the lodge offers wonderful wildlife watching and adrenaline rushes aplenty. There are various daily tours, including a visit to a local Cabecar community, or experiences such as a romantic dinner high in the tree canopy. The route out of the lodge takes guests along grade III/IV rapids.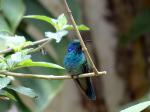 Green violetear hummingbird in Monteverde
Then they headed west to Arenal for a stay at the Tabacon Resort, which has some wonderful hot springs. Besides a relaxing soak in the jungle, visitors to the region can enjoy the various canopy experiences e.g. aerial trams, canopy walkways and zip lines. It is also possible to visit a local farm for a traditional coffee and tortilla lunch.
Crossing Arenal Lake the Roses' arrived to the cloudforest of Monteverde and stayed at Monteverde Lodge. Visitors here may be lucky to spot the elusive quetzal, though probably not whilst zipping through the trees along the country's longest zip line!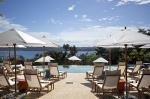 Andaz Resort
Their penultimate stop was Rio Perdido, a modern design hotel set within its own private reserve. There are 12 miles of dedicated mountain bike trails, self-guided walking routes and various adrenaline inducing activities. More relaxing are the mud baths, thermal pools and normal pools.
Their final destination was the Nicoya peninsula on the Pacific coast. Splitting their time between the Andaz Peninsula Papagayo Resort and the Four Seasons, the family spent thier last days snorkelling and relaxing.
For sample itineraries please see www.lastfrontiers.com/costa-rica/itineraries or contact us to discuss a tailor made trip.
See here for the full Mail on Sunday article.
"Thank you for arranging the most amazing trip to Costa Rica; it wasn't until I was at Poas I fully appreciated the range of habitats and altitudes you'd skilfully included to allow me to see and experience to the maximum!" - JW
"We loved Costa Rica and our whole honeymoon. It was very well organised and stress free and the local agents were very helpful when out there. We have so many great memories and it was a fantastic place to start married life" - AS
"WOW what an amazing holiday! Costa Rica is such an incredible country with such wonderful people. All goes to show what a country can achieve and how good a country can feel when it doesn't have an army and it focuses instead on education. We were seriously impressed and loved it. We will continue to recommend you to our friends, and thank you again for organising such a great experience for us." - JL