I have just returned from a wonderful trip with my sister along the so-called Route of Emotions, between São Luis and Fortaleza, in northern Brazil. This stretch of coastline is dotted with small, remote, fishing villages hidden among rolling sand dunes and palm trees. It makes a remarkable journey. Nearing the end of our trip we were lucky enough to spend a few days in Jericoacoara (known as Jeri) which has lovely beaches and dunes, and a fun atmosphere creating a good base for families (particularly teenagers). As well as making the most of the beach and dunes I managed to see quite a few hotels and have written a brief overview of each.
Chili Beach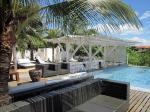 Chili Beach
This would be my favourite place to stay in Jeri, it is at the top end of the pricing scale but for me outshines the other higher end options of Essenza and Essenza Dune. Chili Beach is set on the edge of Jeri which we definitely found to be a positive, especially as it is possible to walk to the other side of the village in 15 minutes. Best suited for relaxed romantic getaways.
www.lastfrontiers.com/hotels/brazil/jericoacoara-to-fortaleza/chilibeach
My highlights: with just 6 rooms the hotel never feels overcrowded, the pool area is beautifully quiet and overlooks dunes and out to sea, and a complementary sunset drink is offered each evening.
Essenza Dune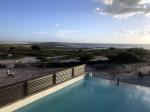 Essenza Dune
My highlights: each room has its own balcony with pool and hot tub, it is just 100m from Sunset Dune which offers the best sunset views in Jeri, and you can use all the facilities at Essenza (100m away) which include the pool, spa, gym and beach restaurant.
Blue Residence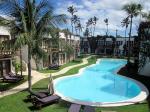 Blue Residence
A fantastic value option right in the heart of Jeri. Although this hotel is in the middle of Jeri's very lively beach, the hotel itself actually faces away from the ocean. This means that all rooms and apartments have pool views and surprisingly very little noise from the beach can be heard. This would be my top family-friendly hotel option.
www.lastfrontiers.com/hotels/brazil/jericoacoara-to-fortaleza/blueresidence
My highlights: the well-maintained grass area around the pool makes a nice change from the usual tiled flooring, direct access from the pool area to the beach, rooms are simple, functional and good value.
Other Options to Consider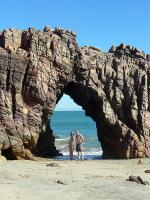 Pedra Furada rock
Essenza is almost next door to Blue Residence and the rooms, pool and restaurant are all beachfront. It is best suited for couples or families with children older than 12.
My Blue is almost on par with Blue Residence. Its position is good and the reception entrance is just off one of the main shopping streets. Another great family friendly option.
Essenza Rox is on a quiet street just 50m or so from the beach. Of all the hotels I visited this was probably the most unusual. They seem to have had a very oddly shaped bit of land on which to build this hotel so it is a strange wedge shape. Unfortunately there are a few tall buildings next door which cut out a lot of the sunlight to the pool and pool-side rooms. However, there is a nice rooftop and the rooms are large, spacious and spotlessly clean. This hotel is best suited to couples.
www.lastfrontiers.com/brazil/regions/jericoacoara-to-fortaleza
I hope this gives a good understanding of things to consider when deciding on where to stay in Jeri. This is our favourite sample itinerary which includes this lovely spot:
www.lastfrontiers.com/itineraries/brazil-family-adventure