Recently I spent 3 weeks discovering the mainland of Ecuador and the Galapagos Islands. The Galapagos had long been on my 'must see' list and was one of those places that I had very high hopes for. Luckily I was not disappointed and was blown away by the whole experience. Here is a short summary of some of the amazing things I got up to during my week exploring the Galapagos.
Arriving in the Galapagos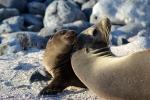 Mum and baby sea lion
My week began by flying into San Cristóbal 'airport' and being driven the few minutes to the port to board my boat which would become my home for the next seven nights. As soon as you are in the port you can already see sea lions relaxing on the rocks, completely unperturbed by the minivan of new arrivals ferreting around in bags to grab cameras!
A week on board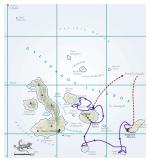 The Grace's itinerary
My boat's itinerary covered the south east and central islands and was wonderfully varied. The contrasts between the islands are extraordinary and fascinating. For me the geography and geology of the islands was equally as interesting as the wildlife. Here are my favourite islands and why!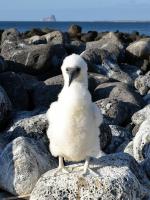 Blue-footed booby chick
Once on board we immediately set off to our first stop, Lobos Island. As this was my first island excursion it remains one of my favourite memories. This small rocky island was a wonderful introduction to the Galapagos and is abundant with blue-footed boobies, frigatebirds and sea lions. As it was September we were lucky to also see all the baby sea lions playing with rocks, each other and annoying their mothers. The baby frigates were in various levels of disarray, being in the midst of losing their downy feathers and growing into their adult ones. The baby boobies were still looking like balls of cotton wool with beaks and white feet (their feet turn blue when they are older).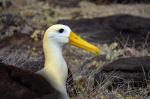 Waved albatross
On Española Island we were lucky enough to see waved albatross. The main breeding ground of these critically endangered birds is on Española Island and they are usually found here April to December. This island has great photo opportunities with its natural blowhole and amazing scenery.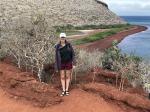 Me on Rábida Island
Another interesting island is Rábida Island which has a striking red colour due to the high iron content. We saw flamingos in the lagoon on our walk and also enjoyed an early morning kayak around the island.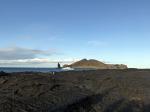 Views out across Santiago Island
For me Sullivan Bay on the island of Santiago was really special. It is a 'new' island with pioneer plants fighting for survival in an unhospitable environment. We also saw Galapagos penguins from the panga (a small boat similar to a zodiac or rib boat) on our way back which excited everyone.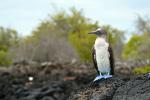 Blue-footed booby
The grand finale for our trip was to Black Turtle Cove which was our only panga excursion of the week and the only day we didn't visit an island on foot. I didn't have high hopes due to the lack of walking involved but we saw diving blue-footed boobies, turtles mating, white and black-tipped sharks, rays and baby hammerhead sharks - what a finish to a great trip!
More itinerary ideas: www.lastfrontiers.com/galapagos/itineraries
Moments I will never forget
In addition to my favourite islands I have picked my top 5 moments of the trip: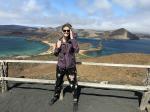 Viewpoint on Bartolomé
Swimming with turtles
Watching baby sea lions play
Fighting strong winds to reach the viewpoint to see Bartolomé Island and Pinnacle Rock
Sending postcards from Post Office Bay
Seeing a humpback whale breach!
The Galapagos is one of those places you have to put on your bucket list. My trip was onboard the lovely Grace and following the 'Beyond Darwin's footsteps' itinerary. There are plenty of different boat options and itineraries which can take you all over the archipelago ranging from just 3 to 14 nights. I felt my 7 nights was the perfect happy medium and I can't believe how much we managed to squeeze in!
Find more about the Grace here: www.lastfrontiers.com/hotels/galapagos/cruises/grace
All our other favourite boats are listed here: www.lastfrontiers.com/galapagos/regions/cruises