The mighty Iguassu Falls lie on the border of Argentina and Brazil and have enough sites and activities to occupy several days.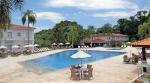 The new pool at Hotel Das Cataratas
Orient Express have refurbished the historic Hotel Das Cataratas at Iguassu Falls so it is now a luxury 5-star hotel that befits its stunning location. A new hotel in the area is Loi Suites Iguassu, a stylish hotel close to the Argentine/Brazil border, in rainforest on the edge of the Iguassu river. Slightly further from the falls is Posada Puerto Bemberg, a small property, decorated with real attention to detail, set on the Bemberg family's estate of 400 hectares of Atlantic rainforest. It is a great base for relaxing, walking, watching the sunset over the Parana river and taking a day trip to Iguassu falls.