I travelled through Costa Rica, Nicaragua and Panama on a wonderful trip that combined adventure and stunning scenery with luxurious hotels and gourmet dining experiences.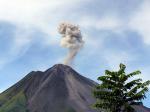 Arenal volcano
Costa Rica is an impressive country for wildlife, and my first stop was the Osa Peninsula in the south. Staying in Lapa Rios lodge, I was able to hear the howler monkeys from my four-poster bed as dawn broke and spotted toucans from the restaurant terrace. Next stop was Pacuare Lodge, a real gem near Turrialba, with beautiful bungalows and fantastic food, and the excitement of rafting in or out of the lodge made it a very special experience. Another highlight was staying in the Arenal Nayara hotel in the central region, where my balcony faced the slopes of the volcano and I was woken in the night by the sounds of an enormous eruption. I shot out of bed and saw red ash and lava rock shooting up into the night sky, what an amazing sight.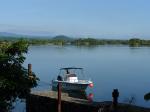 View from Jicaro Lodge
It is easy to continue from the Arenal region up by road to Nicaragua and as dusk fell I crossed the border, arriving to the lively colonial city of Granada, fascinating to visit. There I took a small boat under the starry night sky onto Lake Nicaragua and after 15 minutes arrived at a tiny private island, and the newly constructed Jicaro Ecolodge. I was one of the first guests to stay in this haven of tranquility and I relaxed on the tiny beach watching local fishermen drift past in their boats, and contemplated the fine view of a nearby volcano.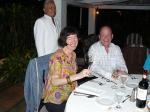 Jill and Charlie
The final leg of my trip was to Panama and I was thrilled to arrive by small plane and see the impressive canal spread out below me with so many ships waiting to go through. My favourite hotel was in the Boquete region, the historic Panamonte Inn welcoming guests since 1914 (including many famous visitors, particularly film stars and US presidents!). Charlie Collins is the owner and renowned chef and he entertained me with a fabulous gourmet tasting menu on arrival - seven courses of pure heaven! On an early morning bird watching tour next day, I was so excited to spot the elusive resplendent quetzal - sadly my camera did not do the moment justice but I will never forget spotting that long bright plumage, high on the branch just in front of me.