As promised we are back again with some news and updates from the travels of the Last Frontiers team. This newsletter has taken a bit more time to put together than usual as we have all been away so much!

In this edition:
News from Last Frontiers
Jill in Peru and Chile
Tracy in Brazil
Alison in Belize and the Galapagos
Sue riding in Ecuador
House & Garden Show - Olympia
News from Last Frontiers
The sad news is that Simon has finally left us - I say finally because he arrived 6 years ago saying he would like to work for 6 months part time, and the rest is history. We wish him all the best with his new ventures (which will no doubt involve a lot of surfing and a certain amount of climbing). We welcome Alison to the team, some of whose adventures are described below. Rose has produced the first Last Frontiers baby (Emily, born 27 October, 3lbs 7oz, bouncy) and it's lovely to have her back with us after her maternity leave.

www.lastfrontiers.com/team
Peru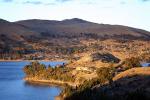 Suasi island
Jill was in Peru for 3 weeks and travelled from top to bottom in a whistle-stop tour encompassing desert, mountains, canyons and rain forest. Highlights included the fascinating new museums and archeological findings in the Chiclayo area (Lords of Sipan and the treasures of the Moche pre-Inca civilisation) and an alternative hike to the Inca trail: Huchuy Qosqo high up in the Sacred Valley, "I pitched my tent next to the Inca's summer palace and saw no other person for the 2 days of the hike". Another stunning location new to Last Frontiers was the island of Suasi, 5 hours across Lake Titicaca, "I stayed in a lovely lodge powered by solar energy, with climbing roses round the door and hammocks in the garden and watched the sun set over the Lake. Peru is a popular destination and it was good to find new corners such as these, far from the madding crowd."
Chile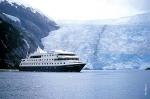 Australis cruise
Torres del Paine is already incredibly busy for 2005 and even though we have a couple of new lodges to offer do think about booking your trip sooner rather than later. Jill was in the Park in April and saw the wonderful Autumn hues of reds and golds, against bright blue skies and snow-capped mountains. Several of the lodges in the Torres del Paine National Park are now staying open all year round, so their Autumn is a good season to travel to Patagonia.

Tracy escaped the snow here and spent 3 weeks in Patagonia earlier this year. "I stayed in all levels of accommodation ranging from camping to some of our Dream Destinations and also took an exclusive cruise around Cape Horn from Ushuaia to Punta Arenas on Mare Australis. However, whatever the accommodation, the scenery is outstanding and whatever your level of fitness or interests, there is something for everyone in Patagonia!"
Brazil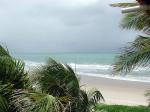 Beach at Tabajuba
Tracy also visited north-eastern Brazil for the first time last month and was very impressed, "Long, white, sandy beaches, lovely pousadas with lots of character and the people are so friendly. The area seems to have the perfect mix of colonial cities and beaches. If you are feeling adventurous get your beach buggy driver to drive around the sand dunes com emoc"o (with emotion!)". One great advantage is that this is the closest point in Latin America to the UK - the flight to Recife is just under 8 hours from Lisbon, so perfect for a shorter trip.
Belize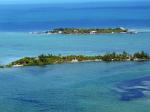 Cayes off Belize
Alison, the newest member of the team, has already been to Latin America twice this year! Her first trip was a whirlwind tour of Belize where she spent time in the rainforest, explored Mayan ruins and visited the fantastic beaches. "It was my first trip to Central America and I loved every moment of it. From canoeing down the Rio Grande and walking through the forest in the Toledo District, to visiting the beaches of Ambergris Caye. The Mayan sites of Caracol and Lubaantun were both stunning and interesting, and my stay at Hidden Valley Inn gave me the chance to explore some of the Mountain Pine Ridge Reserve. There are so many walks, waterfalls, natural pools and caves in the area, I had no hope in seeing them all. Ambergris Caye has something for everyone: Victoria House is just outside San Pedro and is of the highest standard, and Mata Chica is a secluded, young and quirky place to stay."
Ecuador/Galapagos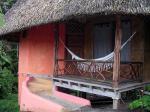 A cabin at Napo
"In April I was lucky enough to go on a trip of a lifetime to the Galapagos Islands and Ecuador. I cruised around the islands for a week amazed by the wildlife and scenery. It was a chance to see all the birds and their behaviours I had heard so much about in my zoology lectures at university! The weather was fantastic, April being a perfect time of year to visit the islands, although my Scottish skin suffered a little from the strong sun! Each island is different from the others in terms of scenery and wildlife, and it was unbelievable just how close we could get to the animals. My time on mainland Ecuador took me to the Amazon, Otavalo, Cotopaxi National Park and Salinas. I stayed in a new lodge in the Amazon called Napo Wildlife Centre where I felt I was on another planet - it was a magical experience paddling up a small creek to the lodge spotting Howler monkeys and far too many types of birds to list along the way. The lodge is part-owned and staffed by the local community, and is within the National Park so there is plenty of wildlife. I also visited the Otavalo area where I enjoyed a stay at Hacienda Cusin and in Cotopaxi I stayed at San Agustin de Callo (built on an old Inca Palace, an amazing place). My trip came to an end with a quick tour of Guayaquil, which has really been cleaned up over the last few years and is now a pleasant coastal city."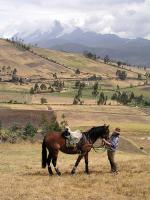 Riding near Otavalo
Sue has also been to Ecuador when she and Ed joined Sally Vergette, Ride Andes, for some wonderful riding around the snowcapped Cayambe Volcano and pastoral Zuleta Valley, north of Quito, and through the Cotopaxi National Park, south of Quito. "The scenery was stunning, we rode between the patchwork fields, crossed small gorges cut out by the streams descending the volcanoes, along country lanes, through Andean Hamlets and eucalyptus forests, as well as over the open plains for some faster-pace riding. Sally owns all her horses which are well trained and good-natured. They are local Criollos (descendants of the Spanish Conquistadors stock) and are ideal for the altitude (we rode to 4,000m) and terrain. Sally is a very knowledgable and enthusiatic host/guide, we stayed in working Haciendas with a lovely family atmosphere and were very well fed! Sally offers small group and custom made rides in Ecuador with the accommodation being either in Haciendas or camping, plus an Annual Round-up ride. She is now also leading rides in Uruguay, which we will be testing later this year.."
House & Garden Show
We will be exhibiting at this show, which is at Olympia from 24-27 June. We will be on stand GA113 and it would be lovely to see you there. We have a limited supply of entry tickets so do let us know if you would like one (first come first served!).
Next Newsletter
That's about all you can probably digest in one go, so we'll leave the rest for the next edition, when Costa Rica and Mexico will be on the agenda. I am just back from Argentina (where I rode across the Andes to Chile), and a fascinating visit to Guyana - where you have the best chance of seeing a jaguar in Latin America...
With best wishes from Edward (and the rest of the LF team)