In March I eagerly grabbed the chance to escape our seemingly endless UK winter and head to the warmer climes of Uruguay for a few days. I feel the country is often overlooked by visitors heading to neighbouring Brazil and Argentina and I was very much pleasantly surprised by its many attractions. Some may know it is South America's smallest nation after Suriname (you could fit 15 Uruguay's into Argentina) but may not know that in terms of population there are three cows to every person and over 85% of the land is dedicated to agricultural use.
Montevideo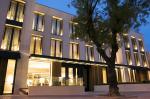 Oliva
My trip began in Montevideo, the nation's capital (founded in 1726 by the Spanish). From the air the city looks small, and in reality it really is and very easily explored. The coastal road from the airport took us through wooded suburbs then past city beaches where locals were catching the last few days of the summer sun. The city is ranked as having the highest quality of life in Latin America and I really felt this even before learning the fact - commutes are relatively short due to the size of the city and most office workers don't start work until 10am. Generally it just feels like a slower pace of life and everyone is very friendly and happy.
I stayed at the delightful Oliva hotel, a boutique option a stone's throw from the Punta Carretas shopping mall (which interestingly in its previous life was actually a prison and allegedly does a better job of keeping shoppers in than it ever did prisoners!).
We enjoyed lunch at La Baguala, a country hotel only 30-40 minutes from the city, but a world away. Visitors can just go for lunch, or there are 12 rooms for overnight guests. There is a lovely deserted beach, a large outdoor pool, a spa and also horses for those who want to go on a gentle ride. It is an ideal option for those returning to Montevideo but who don't want to stay in the city a second time.
Colonia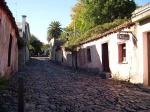 Calle de los Suspiros, Colonia
From Montevideo we went on a day trip to Colonia, around 2½ hours away. A delightful small town with a unique mix of Spanish and Portuguese architecture (tip: the Portuguese used huge cobblestones so a pair of sturdy footwear is advisable). Although we didn't stay overnight, my favourite hotel was El Charco, with lovely gardens and views to the river Plate. We enjoyed a tasty asado and some locally brewed beer on the riverfront and had a good wander around the small colonial centre.
Colonia is actually only a 45 minute ferry journey from Buenos Aires but a world apart and certainly something I'd recommend for those only able to spend a day in the country.
www.lastfrontiers.com/hotels/uruguay/colonia-and-surrounds/charco
Rocha and Josť Ignacio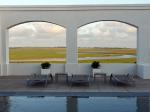 View from Estancia VIK
From Montevideo we headed to the department of Rocha and to Guardia del Monte, a cosy estancia in a beautiful setting overlooking laguna Castillos. On the coast we visited the Pueblo Barrancas ecolodge, a series of thatched bungalows, yurts and tents set amidst four hectares of sand dunes and forest. For those who want a bit of an escape from the hubbub of a town and enjoy rustic charm, this would be top of my list.
We also spent a very enjoyable few hours cycling from the lighthouse in La Paloma to laguna de Rocha. The route was predominantly along sandy roads, which we had all to ourselves. On arrival at the lake we were met by a local fisherman who took us across to the other side where we had a tasty picnic waiting for us. Although late in the season, we had the whole place to ourselves, and even in high season this area rarely gets busy.
In José Ignacio we were lucky enough to see all three of the well-known VIK properties - Estancia, Playa and Bahia, and enjoyed dinner at Bahia VIK, accompanied by wine from Viña VIK in Chile. Each property is full of amazing works of art but each has its own uniqueness. Depending which property guests choose to stay at, they can move to one or two of the other properties, sampling the different activities on offer or just relaxing somewhere different.
www.lastfrontiers.com/uruguay/regions/jose-ignacio-and-the-east
Punta del Este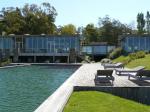 Pool at Aguaverde
Finally we ended our trip with a stay in Punta del Este. The town itself is nothing special but nearby is the 'Fundación Pablo Atchugarry' sculpture park which is well worth a visit and we were lucky enough to meet the artist and see him at work on one of his impressive marble pieces. We also went to the 'Casa Pueblo museum', home and studio of the late Carlos Páez Vilaró.
Inland we visited Viña Eden winery which was very interesting. There are many vineyards and olive groves in this area of the country. Tannat is the main wine produced and is very good. We also stopped at the beautiful Aguaverde Wine Lodge for lunch. The lodge has rooms and cottages for guests, a stunning infinity pool and a vineyard at the end of the garden.
www.lastfrontiers.com/hotels/uruguay/punta-del-este/agua-verde-hotel
I thoroughly enjoyed my little jaunt to Uruguay and would recommend it as a destination in itself or as an interesting add-on to a trip to Argentina.