The greatest perk of travel consulting is having the opportunity to visit new and unfamiliar destinations and for me personally, the less well known or popular the country is, the more excited I get about going. So when Last Frontiers received an invite from El Salvador's ministry of tourism to send a member of staff to his seemingly forgotten land, I was like a dog with two tails.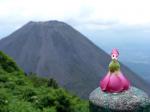 Cerro Verde volcano and flower doll
I have to admit that prior to leaving my knowledge of El Salvador was limited to its whereabouts on a map and the fact it suffered a dreadful civil war around the time I was born. But in just 5 days, I managed to see an incredible amount; the country is about the size of Wales and easy to navigate due to the brilliantly maintained roads (apparently the best in Central America). Whilst this isn't a selling point as such, it does make travelling around the country a joy and very easy to pack all the highlights into a week-long trip.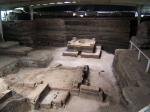 Joya de Ceren
And what highlights they were! There was the lost city of Joya de Ceren, dubbed the 'Pompeii of the Americas', the charming cobble-stoned town of Suchitoto (such an onomatopoeic name), and oh, the food! What a delightful surprise! If anyone has a passion for prawns like I do, I urge you to travel to El Salvador for this reason alone. From tip to tail, they were literally the size of my face.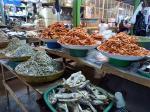 Street food in San Salvador
Another unexpected gastronomic god-send is the pupusa - El Salvador's national dish. Having tried various corn pancake incarnations throughout Guatemala and Costa Rica, I was less than enthusiastic about trying these puppies, but I'm happy to report the locals have nailed this ubiquitous snack by frying and stuffing them with various fillings like pulled pork and cheese (a welcome alternative to refried beans).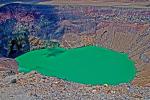 Crater lake of Santa Ana
And did you know there are over 700 volcanoes in this tiny country? Me neither. Thankfully only 8 are still active which makes for some smoking hot scenery! The lush green hills are literally alive with plumes of smoke and the fluttering of bright turquoise browed Motmots; the countries national bird.
My favourite aspect of El Salvador however, was being made to feel so welcome by the locals. Tourism is such a new and as yet undeveloped market, that our unusual presence had children hollering out their basic English at any given opportunity. The country really does have a wealth to offer its intrepid visitors and makes the ideal place to start re-tracing Mayan footsteps - whether north to Guatemala or east to Honduras. Trust me - it will be well worth the journey.