Nigel Planer travelled with Last Frontiers to Brazil, taking in Salvador, the Chapada Diamantina and Rio de Janeiro.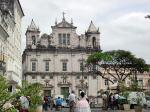 Salvador
Salvador is one of the oldest colonial cities in the Americas and still also retains its unique African-influenced culture. The city overlooks the vast Todos os Santos bay and without travelling too far one can still find secluded beaches and idyllic islands.
The Chapada Diamantina national park is 400km inland from Salvador - a beautiful area of caves, streams and mesas with excellent trekking.
Lively Rio de Janeiro has one of the most beautiful settings in the world - the Corcovado and Sugar Loaf mountains overshadow the city and the beaches include famous Copacabana and fashionable Ipanema.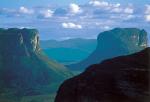 The Chapada Diamantina
Nigel and his wife stayed at Villa Bahia in Salvador, Canto das Aguas in Lençois and the Porto Bay Rio Internacional in Rio de Janeiro. We offer different levels of accommodation and also feature a number of private villas for those wanting a bit of beach time too.
Our suggested 10 day trip includes 3 nights in Salvador, 3 nights in the Chapada Diamantina and 3 nights in Rio de Janeiro. Prices start from £2,820 per person based on two people travelling and include international flights from London, internal flights, bed and breakfast accommodation, private tours and transfers and one overnight bus.
This itinerary is just a suggestion – we can arrange bespoke trips to the rest of Brazil or indeed other parts of Latin America. With our in-depth knowledge of the region and passion for Latin America we can help put together the perfect holiday for you.
To read Nigel's full article online, click here
"A really brilliant holiday, all expertly arranged by Last Frontiers! I think we all agreed that throughout the whole planning process, Last Frontiers have been excellent, always replying promptly to emails and always going that extra mile in terms of providing the information we needed. I can't think of anything you could have done better, so thank you very much indeed." - KT