A Gaucho is an equivalent of the North American "cowboy". In the 19th centuary, gauchos made up the majority of the rural population, herding cattle on the vast estancias, and practicing hunting as their main economic activities.
The Iberá wetlands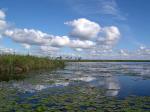 Water lilies
One of the three great wetlands of South America (along with the Venezuelan Llanos and Brazilian Pantanal), the Iberá marshes in northen Argentina are best explored either by boat or on horseback. On the southern border are several small lodges and estancias offering a range of accommodation, but all with excellent wildlife-viewing opportunities.
See more Ibera images here.
A new route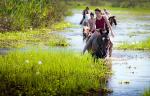 Riding between estancias
We have loved this area for a long time. Ed's cousin Victor, who is from Mercedes, was instrumental in sourcing sufficiently courageous gauchos for the 2006 IMAX film Ride around the World (sadly never released in the UK).
When we heard from our friends at Rincón del Socorro that they could organise 3 to 5 days rides we were very excited, and when they sent us a few pictures even more so.
An itinerary idea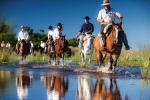 Crossing the marshlands
Island hopping with the gauchos, the ultimate riding trip in the Ibera Wetlands in northern Argentina. Last Frontiers can offer a 10 day trip for £2,597 per person (based on 2 people travelling). Spend 2 nights in the vibrant capital Buenos Aires before you fly off to Corrientes, north-western gateway to the Iberá wetlands and starting point of the adventure. The 6 day ride crosses pampa, river and forest taking in stunning wildlife and three separate estancias including the island retreat of San Alonso and the luxurious Rincon del Socorro. Return to Buenos Aires for a final overnight before you fly back to the UK. The price includes international and internal flights, 3* accommodation with breakfast in Buenos Aires and the 6 day adventure trip with all meals, accommodation and riding included.