Latin America is host to a variety of natural as well as man made wonders, giving way to some equally impressive hotels. Whether your interests lie in history, nature or brand new experiences, it is possible to incorporate them into not just the places you visit but your accommodation as well. Here are a few properties which display the diverse creativity of Latin America.
For more information or to book a stay in one of these quirky properties call us on 01296 653000 or email us at info@lastfrontiers.com
The Salt Palace - Bolivia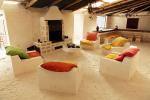 Salt chairs
The fabled Salt Palace Hotel in Bolivia can be found at the edge of the Salar de Uyuni, in western Bolivia. The majority of the structure (apart from the thatched roof) is made up of blocks of solid salt, accompanied by tables, chairs, beds, a pool table and sculptures all crafted from what is largely known as a seasoning or condiment in most parts of the world. The Salar, or 'salt lake', spans over 10,000 square kilometres and is at an altitude of 3,600m above sea level and attracts tourists from across the globe to marvel at this unusual natural spectacle.
Room 727 - Costa Rica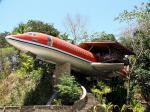 An unusual bedroom
The Costa Verde Resort in Costa Rica overlooks the beaches of the Manuel Antonio National park and is surrounded by thick rainforest. One room at the hotel offers something a little out of the ordinary, a luxury suite built into the fuselage of a 1965 Boeing 727. Formally of South African Air and Avianca Airlines, this Swiss Family Robinson style room was opened in January 2010 and includes 2 bedrooms, 2 bathrooms, a kitchenette, dining area, flat screen TV's and a terrace with an ocean view.
Elqui Domos, 'The Astro-Hotel' - Chile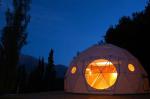 Dome at night
This alternative hotel offers exclusive dome-shaped rooms with a detachable ceiling and private telescope to observe the stars above the Elqui valley. The region is famous for some of the clearest skies in the world as well as the production of pisco (which may account for the record number of UFO sightings..).
This 5 star hotel is an architectural masterpiece set in central Mexico city. This former bull fighting stadium is placed amongst beautiful churches and illustrious mansions and offers a truly unique experience. It holds all the facilities of a top level hotel such as jacuzzis and flat screen televisions whilst maintaining the allure historical significance. One of the most interesting features is the hotel bar which is situated in the basement which was once the old bull corral.
Casa Navegante – Colombia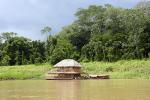 Casa Navegante
Enjoy a relaxing float down the Colombian Amazon from the comfort of your hammock or sun lounger. Powered by solar panels, you have the luxury of having a hot shower (a rarity in the jungle!). Cruising at an approximate speed of 10km per hour you will be able to take in the stunning landscape and lush rainforest at your leisure. Activities include visits to local communities, forest walks and night safaris. This particular region of the Amazon is host to 468 species of birds and 150 species of mammals; it is also home to the world's largest lotus which can grow up to 1.5 metres.