We hope you are enjoying the summer and welcome to our round-up of Latin America news and staff travel.
In this issue: Office news ♦ Last Frontiers' Top Three: Winter holidays ♦ Jonny trekking in Peru ♦ Last Frontiers in the press
Office News
We have had a busy summer so far, with many people booking their holidays for 2016. Cuba in particular is an extremely popular destination at the moment and if you are planning to visit this year or next we advise booking as soon as possible. We are also getting ready to launch our new website which should hopefully be ready by mid-September - watch this space...
New flights - we recently heard that British Airways will begin operating direct, non-stop flights to San José, Costa Rica and Lima, Peru (from London Gatwick) from May next year which is very exciting.
Last Frontiers' Top Three: Winter holidays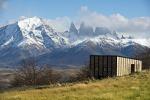 View from Awasi cabins in Torres del Paine
Latin America has such variety that whenever you wish to travel there is always somewhere to go with great weather. These are our top picks for a winter holiday:
Patagonia
The best time to visit Patagonia is November to March; although temperatures in the far south don't tend to climb higher than 15 degrees you should enjoy clear days with perfect weather for hiking and other outdoor activities. You could enjoy the festive period at a homely estancia or maybe on a cruise of the southern fjords and Cape Horn.
"Our holiday to Argentina and Chile was a great success. I don't think I have ever been in four such beautiful places. All the arrangements worked very well, we went on some beautiful walks and greatly enjoyed the three weeks. Thank you for making all the excellent suggestions and organising everything. It was great." - IP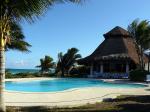 Xpu-Ha villa on the Riviera Maya
Mexico
Mexico enjoys a dry season in winter, with temperatures still high on the coast and many inland areas. Christmas is a wonderful time to visit, with markets and streets beautifully decorated for the season. You could even enjoy spending time with family in a rented villa. Whale watching is best from December to February in Baja California and this is also the best time to witness the annual migration of the monarch butterfly in Michoacán.
"Another top trip through Last Frontiers. Mexico was a great place to spend Christmas, offering a good mix of traditional celebrations and local culture, and we stayed in some wonderful hotels and enjoyed the climate." - CH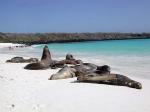 Sea lions on the beach at Gardner Bay
Galapagos
The Galapagos Islands experience a transitional season in November with generally good weather and calmer seas, with the islands becoming greener from December onwards. The sea temperature also starts to warm up in January. During this period visitors can hope to see sea-lion pups, birds nesting and green turtles arriving to lay their eggs.
"The Galapagos cruise was wonderful, perfect weather and lots to see. We met some amazing people and our boat cabins were very good. Your organisation could not be faulted, thank you for everything and I will never forget the shark and the penguins that swam so swiftly past me while snorkelling." - JS
Jonny trekking in Peru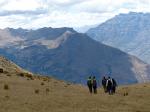 The Lares Valley in southern Peru
In November Jonny returned to Peru to test out one of the newest (and most comfortable!) walks in the beautiful Sacred Valley of the Incas - the Mountain Lodges of Peru 'Lares Adventure'. Over seven days he walked through the remote and stunning Lares valley, spending each night in homely lodges built specially for this trek. Along the way he visited indigenous communities, remote Inca sites, and took part in local customs like pachamanca (cooking using hot stones). Read Jonny's Peru trip report here.
Lizzy in Argentina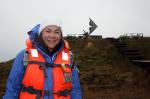 Lizzy at Cape Horn
In March Lizzy returned to Argentina and embarked on a trip that took her all the way down to legendary Cape Horn (or Cabo de Hornos as it is known locally). Lizzy's trip began in Buenos Aires (where she has been a number of times), before flying down to Argentina's southernmost city - Ushuaia, departure point for the Via Australis cruise. The cruise took in fjords and glaciers as well as places of historical interest (think Darwin!) and of course the famous Cape Horn where Lizzy was lucky enough to disembark (and meet the lighthouse keeper!). Read Lizzy's Argentina trip report here.
Last Frontiers in the press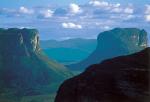 The Chapada Diamantina
Last year we sent Nigel Planer to Brazil and his article appeared in the Mail on Sunday in June. He visited the colonial city of Salvador de Bahia with its unique African-influenced culture and also explored the caves and waterfalls of the stunning Chapada Diamantina National Park (a short flight or longer bus ride from Salvador). Of course no visit to Brazil can miss lively Rio de Janeiro, where he took in the main sights. Read Nigel's Brazil article here.
Next time we'll have reports from Claire and Fran who have just returned from a visit to north-east Brazil.
With best wishes from all at Last Frontiers
--
Last Frontiers Limited
Tel: 01296-653000 | info@lastfrontiers.com | www.lastfrontiers.com
The Mill | Quainton Road | Waddesdon | Buckinghamshire | HP18 0LP
"The holiday to Costa Rica was fantastic, thanks for all your help and the brilliant organisation. Overall the tour was perfectly staged, all the Costa Ricans we came across were incredibly friendly and the drivers were excellent and always on time." - LVF