We have put together a collection of some of our favourite lodges around Mexico, Central and South America. They are not all luxury lodges, in fact some of them are quite rustic, but we have chosen them for their uniqueness, location, host or a combination of any of these elements. We hope you are inspired by our suggestions and feel free to contact us for further information or for a tailor-made itinerary that includes one (or even more!) of our favourites.
NEW Remote Island Lodge on Lake Titicaca - Amantica Lodge, Peru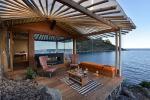 Amantica Lodge
A lovely new lodge (opened 1 December 2015) on the wonderful Amantaní Island on Lake Titicaca. A 3 hour journey by boat takes you to this remote island where locals speak the native Aymara language and still wear their traditional dress - there is even a small Inca site. Amantica Lodge has just two rooms (a family room and a suite whose stone bath has wrap-around views). Until now the only lodging available on the island was rustic, either staying with a local family or at a simple lodge. Visitors wanting to spend a night or more at this new lodge, with private excursions and activities tailored to their interests could factor it into an itinerary similar to our suggested Classic Peru trip.
Beachfront Bliss Accessible Only by Boat - Playa Cativo, Costa Rica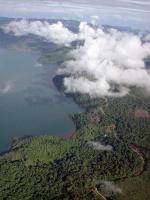 Osa peninsula from the sky
Costa Rica is rich in it's lodge offerings and we particularly love the new Playa Cativo beachfront lodge on the Osa Peninsula, an area particularly abundant in wildlife. The lodge is set within 1,000 acres of private tropical rainforest reserve surrounded by the Piedras Blancas National Park, a former extension of the Corcovado National Park. Access is exclusively by boat so the adventure starts before guests even arrive. There are self-guided hiking trails and one guided excursion is included in your stay. There are also kayaks, stand-up paddle boards and snorkelling gear for guests use. Our Family Costa Rica suggested itinerary includes a stay in the Osa Pensinsula.
NEW for 2016 - Explora Valle Sagrado, Sacred Valley, Peru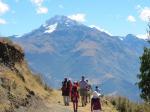 Hike to Chinchero, Sacred Valley
We are really excited about the opening of the new Explora Valle Sagrado hotel (opening 1 July 2016). The hotel will be set within an old corn hacienda in an area of stunning countryside dotted with Inca sites and Andean villages where locals bustle around the local markets in their beautifully coloured clothing. Explora are well-established in Chile with spectacular hotels in Torres del Paine, the Atacama Desert and Easter Island. At each property guests have all meals included (including national wines and drinks), and guided excursions in the local area in small groups. For a luxury trip visitors could incorporate a stay at the new Explora lodge into our Classic Peru itinerary, staying at the more superior hotels in each area visited.
Lakeside Lodge in Patagonia - Terra Luna, Southern Carretera Austral, Chile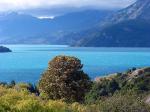 General Carrera lake
A wonderful option on the shores of General Carrera lake along the southern Carretera Austral is Terra Luna, a rustic but comfortable lodge just outside Puerto Guadal. The main focus here are the activities in and around the northern icefield including hiking, riding, kayaking, mountain biking and climbing. The lodge is famous for its Patagonia Jet boat (the only one of its kind in the area) which offers daily departures across the lake to visit a number of glaciers such as Glaciar Leon, Soler and Nef. The lodge is owned and run by the French mountaineer Philippe Reuter.
See here for more information on the Carretera Austral.
www.lastfrontiers.com/hotels/chile/southern-carretera-austral/terraluna
Canyon-Edge Escape - Cerocahui Wilderness Lodge, Copper Canyon, Mexico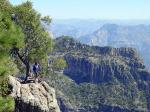 Copper Canyon
A beautiful stone lodge perched on the edge of the Urique canyon with fabulous views, the Cerocahui Wilderness Lodge is a must for adventurers exploring the heights and depths of Mexico's famous Copper Canyon. The nearest train stop is Bahuichivo, only around 16km away. For a suggested itinerary which combines Copper Canyon and the Chepe railroad with Baja California please see our Western Mexico suggested itinerary.

Spa, Seclusion and Serious Style - Chaa Creek, Belize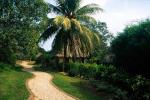 Chaa Creek
A lovely lodge in the Cayo district of Belize, Chaa Creek is surrounded by lush gardens. The rooms and cottages are spread through 330 acres of grounds, falling away to the Macal River. There is a Morpho butterfly breeding centre, a Natural History Centre - covering both Maya history and the natural history of the country and a Medicinal Trail. The nearest Mayan site is Xunantunich (30 minutes away) and visits can be arranged here, as well as canoeing, riding, mountain biking and visits to other Mayan sites. Our Classic Belize itinerary includes a stay in this area.
And a few more...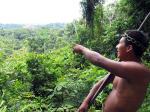 Native guide at Huaorani Ecolodge, Ecuador
If the above options are not quite enough then we do also have these additional suggestions:
It would be rude not to mention an Amazon lodge, of which there are many but a favourite for those looking for a cultural as well as wildlife experience is the Huaorani Ecolodge in Ecuador. The Huaorani were living as nomadic hunters and gatherers with no outside contact until the end of the 1950s. Staying in the Ecolodge allows an insight into their culture and remote way of life.
Awasi are set to open their first hotel outside of Chile in 2016, at Iguazu. We love their properties in Torres del Paine and the Atacama and are looking forward to this new option.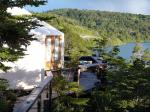 Patagonia Camp
Patagonia Camp in Torres del Paine, Chile will offer two new yurt options for the next season (2016/17), including family yurts with two connecting rooms. A great option for exploring the park in small groups, with activities to suit all levels.
The new Jaguar Villa at Pacuare Lodge in Costa Rica has been such a success that they will be building another this year. The villa is the most luxurious option at the property and sleeps up to five people. Reaching the lodge is part of the fun, as guests raft in and out.
For additional information on any of the properties above or for help including one in a personalised itinerary, please get in touch.
"Chaa Creek is a great resort, and they have really well-run excursions. All the tour guides we met were just excellent" - EM

"I'm at Playa Cativo and all I can say is wow! Thanks so much for recommending ... It's one of the best places I've ever stayed. There is a small problem ... I don't want to leave! " - BB

"What can we say apart from 10/10! " - MD (stayed at Pacuare)

"For us meeting the Huaorani was a real highlight. It was such an amazing experience and we thank you for suggesting it to us, it was just the kind of cultural interaction we were hoping to have" - MK