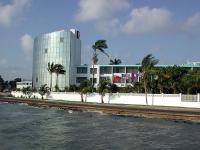 Belize City is the most populous while tiny Belmopan, just inland, is the country's capital. Between the two is a renowned zoo, with as much wildlife outside the enclosures as within. Also nearby are the Crooked Tree Lagoons and Wildlife Sanctuary (particularly good for birds), the Shipstern Nature Reserve, and the Community Baboon Sanctuary (for black howler monkeys).
Our preferred accommodation
City hotel - Central Belize City

The hotel is only a short drive from the domestic airport and around 20 minutes from the international airport. There are 2 swimming pools, a nice outside bar, inside bar and restaurant. There is also a very good bakery.

City hotel - Central Belize City

A typical wooden house with comfortable rooms. There is a separate restaurant downstairs in a leafy courtyard and it is opposite the Radisson Hotel which serves food all day.