La Paz, Titicaca and surrounds
Stretching north-east from La Paz along the eastern shores of Lake Titicaca, the magnificent Andean peaks of the Cordillera Real are Bolivia's trekking and mountaineering centre. There are six peaks over 6,000m, the highest being Illimani. Treks can be arranged from the picturesque colonial town of Sorata, five hours north of the capital and at the foot of Illampu (6,368m).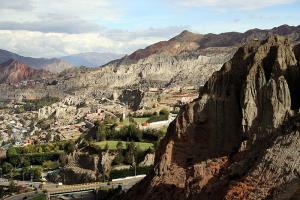 Ringed by the snow-capped peaks of the Andes, La Paz is the highest capital city in the world at 3,600 metres. Founded in 1548, the city sprawls in all directions and engulfs even the surrounding canyon walls. The clutter of varied architecture, colourful markets and cobbled alleys combined with several fine museums offers a fascinating insight into Bolivia's colonial past. Just north of La Paz lies perhaps Bolivia's most fascinating and enigmatic ruin, Tiahuanaco, an ancient citadel dating back to 1600BC.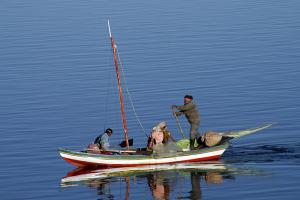 North of La Paz, straddling the border with Peru, lies Lake Titicaca, sacred to the Incas. It is formed by two lakes, Huinamarca and the larger Chucuito, which contains the legendary Islands of the Sun and Moon from which, according to myth, the Inca civilisation emerged a thousand years ago. Trips to the islands run from the pretty lakeshore town of Copacabana and it is worth spending a night in the simple lodgings on the islands to explore some of the Inca ruins and enjoy the panoramic views.