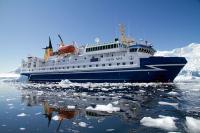 Ocean Nova
Location
ex Ushuaia (ex Punta Arenas for air cruises) (Antarctic cruises, Antarctica)
Description
Quick facts - Level: Standard | Passengers: 72 | Duration: 5-7 nights | Length: 240 feet | Cruising speed: 12 knots | Operator: Antarctica 21

Ocean Nova is a comfortable small ship built in 1992 in Denmark, and was later refurbished to include a glass-enclosed observation lounge and presentation room on the top deck. There is a window-lined dining room, library, exercise room, lounge, bar and clinic, and a limited amount of outdoor deck space. The ship is generally based in the Antarctic Peninsula and passengers fly there from Punta Arenas in Chile - a so-called 'air cruise'.
Capacity
72 passengers
Activities
International expedition staff lead shore excursions and give daily lectures on board. Hiking and showshoeing are offered free of charge. Sea kayaking and camping are available on selected voyages at an additional cost, and must be pre-booked.
Accommodation
Cabins are on 2 decks - Bridge Deck and Upper Deck. All cabins have twin beds, private bathrooms and a picture window.
When to go
Mid November to mid March.
Client comments and reviews
The Ocean Nova was a lovely ship, just the right size with a fantastic crew. All the lecturers were first class and so enthusiastic about their subjects. There were so many amazing sights and such wonderful wildlife throughout the cruise, this was the best part of the holiday and exceeded our expectations. Quark were a very organised company, nothing was left to chance. - IT (February 2008)
Antarctica was the absolute highlight and both the scenery and wildlife were incredible, it really was a trip of a lifetime. The ship comfortable and the guides very knowledgeable so we were able to see and learn so much about the wildlife. - MH (November 2007)
Very comfortable ship, first rate staff and exceptionally clean. Adequate bathroom (all you can expect on this type of expedition ship) and cabins a bit hot at times. - K&ST (January 2007)
The itineraries either follow or are close variants of our standard Antarctica itineraries (www.lastfrontiers.com/antarctica/itineraries).
Almost all cruises start and end in Punta Arenas (Chile) and include a flight to/from King George Island (Antarctica) where the ship is based. The exception is the Express Air cruise which starts in Punta Arenas and ends in Ushuaia (Argentina) or vice-versa and involves the crossing of the Drake Passage in one direction.
A pre and post voyage hotel night is included in the price. All included hotel nights are reflected in the number of total nights.
Twin Cabin
There are 28 Twin Cabins (10 square metres), located on both the Bridge Deck and the Upper Deck, with two single lower berths.
Single Cabin
The 5 Single Cabins (8 square metres) each have 1 single lower berth, and are all located on the Upper Deck.
Triple Cabin
The 4 Triple Cabins (14 square metres) have 2 lower berths and 1 upper berth and are all located on the Upper Deck.
Dedicated single cabins are available. Single travellers can also, if they wish, book a twin cabin with an 85% single supplement for single occupancy, or they can share with another passenger at no extra cost. Antarctica21 will find the matching companion.
A 5% discount is offered on all children under the age of 12 travelling onboard.