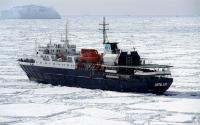 M/V Ortelius
Location
ex Ushuaia (Antarctic cruises, Antarctica)
Description
Quick facts - Level: Standard | Passengers: 116 | Duration: 10-18 nights | Length: 302 feet | Cruising speed: 14.5 knots | Operator: Oceanwide Expeditions

Built in Poland in 1989, Ortelius is a comfortable, stable ship with an ice-strengthened hull and is designed specifically for polar exploration. She is manoeuvrable, quiet and fast, with good outside deck space and a large accessible bridge. She also has two dining rooms, a bar/presentation room, sauna, library and infirmary.
Capacity
116 passengers
Activities
International expedition staff lead shore excursions and give daily lectures on board. Wellington boots are provided, as are snowshoes, and an expedition jacket can be pre-ordered at an additional cost. Sea kayaking, diving and camping are all available as optional activities on some cruises, at an additional cost. Hiking is offered free of charge.
Accommodation
Cabins are on 3 decks, all with private bathrooms and either a porthole or a window.
When to go
Mid November to mid March.
Most itineraries either follow or are close variants of our standard Antarctica itineraries (www.lastfrontiers.com/antarctica/itineraries). One exception is detailed below.
Cruises start and end in Ushuaia (Argentina).
For exact details of specific cruise departures please just contact us.
During all Basecamp Ortelius voyages, complimentary optional activities include kayaking, camping, mountaineering snowshoe/hiking and photo workshops.
Weddell Sea - In Search of the Emperor Penguin**
Day 1: Ushuaia
Days 2-3: Drake Passage
Days 4-7: Weddell Sea via Antarctic Peninsula
Day 8: Deception Island
Days 9-10: Drake Passage
Day 11: Ushuaia
**Includes helicopters
Days 5-6: Alternative program if the weather conditions are favourable (less than 50% probability). Two days will be spent exploring the penguin rookery, which will be accessed via a 15 minute helicopter operation, and a 45 minute walk.
Twin cabin with porthole
24 cabins on Deck 4 and 3 cabins on Deck 3, all with twin lower berths and a minimum of 2 portholes.
Deluxe
There are 2 Deluxe cabins on Deck 5, each with 3 windows, 2 lower berth twin beds, a desk, chair and sofa.
Quadruple Cabin
The 4 Quadruple cabins are located on Deck 3 and have bunk beds and a porthole (they can also be used as triple or twin cabins).
Superior
The 6 Superior cabins, on Deck 5, all have 1 double and 1 single (sofa) bed, a minimum of 2 windows, a desk and wardrobe.
Triple cabin
There are 2 triple cabins on Deck 3, each with bunk beds and 1 single lower berth. They have 2 portholes.
Twin cabin with window
12 cabins, all located on Deck 5, have a minimum of 2 windows, with twin beds, a desk, chair and sofa.
All prices quoted for the Ortelius are in Euros (€).
Single travellers can choose between "single occupancy" at a supplement of 70% of the twin or superior cabin rate, or "sharing basis" in a twin, triple or quadruple cabin at no additional cost.
Children under 16 may (on certain voyages) receive a 40% discount in superior, triple (sharing with 2 parents) and quadruple (sharing with 3 adults) cabins.
Voyages that depart over the Christmas period (18 December - 9 January) will have a supplement.