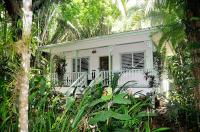 Hickatee Cottages
Location
Punta Gorda (Dangriga, Placencia and Punta Gorda, Belize)
Description
A small family-run property, just 3km from the centre of Punta Gorda. The owners Allison and Eduardo are perfect hosts and excellent chefs. Breakfast and dinner is all freshly homemade. The cottages are in a clearing within the forest and there is a small plunge pool.
Activities
Activities within the property included jungle walking trails, visits to a butterfly farm and occasional cultural nights. Other activities which can be arranged with tour operators in Toledo include visits to waterfalls, coral cayes, cultural visits, chocolate making, snorkelling, fly-fishing, cave swimming, visit to Rio Blanco national park and Maya site visits.
Accommodation
There are 6 cottages; 4 are detatched and 2 are joined. All vary slightly and have different bed configurations. They vary in size and some of them have decks with hammocks. All rooms have screens at the windows and ceiling fans (there is no air-conditioning).