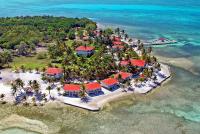 Turneffe Flats
Location
Turneffe Atoll (The Cayes, Belize)
Description
It is a 90 minute boat transfer from Belize City to Turneffe. The atoll is the largest and most biologically diverse in the Caribbean. The main building has a restaurant and bar with good views from the verandah.
Activities
Snorkelling, diving, saltwater fly fishing, bonefishing, kayaking.
Accommodation
8 beach cabanas with air conditioning. There are two 3-bedroom villas where each room has a private bathroom.