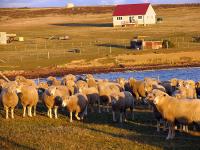 Cobb's Cottage
Location
Bleaker Island (East Falkland, Falkland Islands)
Description
The island is privately owned and run as an organic sheep and cattle farm. Cobb's cottage is a self catering unit.
Activities
Bleaker Island is home to many colonies of penguins and other birds and sea lions can usually be seen within easy walking distance of the settlement. Wide sandy bays and beautiful sheltered coves characterise this lowland Island which is approximately 12 miles and no more than 2 miles wide. Visitors can enjoy a large amount of wildlife in a very compact area and the wildlife sites of most interest are all conveniently located close to the settlement.
Accommodation
Cobb's Cottage is centrally heated and has been equipped to a high standard and can accommodate up to five people on a self catering basis (there is a small shop at the settlement for food essentials or a package can be sent from Stanley).
Our comments
As with Sea Lion Island, the wildlife is within easy access, but do be prepared to cook your own food.