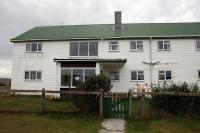 Darwin House
Location
Darwin (East Falkland, Falkland Islands)
Description
A charming guesthouse in the small settlement of Darwin (named after Charles). A conservatory overlooks the bay where you may spot dolphins and there is a large lounge, a dining room and even a small (honesty) bar. Mount Pleasant Airport is just forty minutes away.
Activities
Goose Green just 5 minutes and also nearby are battlefields relating to the 1982 conflict and the Argentine cemetery.
Accommodation
There are a total of six en-suite bedrooms.
Our comments
A pleasant, quiet place to begin your Falkland Islands adventure.