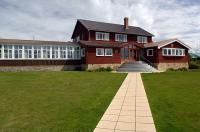 Malvina House Hotel
Location
Stanley (East Falkland, Falkland Islands)
Description
Malvina House is the largest and best hotel in Stanley. It has an excellent restaurant and a comfortable lounge and bar area (it is one of the few places in town that serves draught lager).
Activities
Stanley's museum is just down the road and from Stanley you can visit Volunteer Point and other areas of interest accessible as a day trip.
Accommodation
Some rooms have views to the bay.
Our comments
The only hotel of any size in Stanley. Staff are friendly but service can be a bit hit and miss.