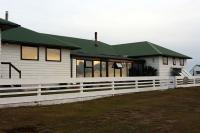 Sea Lion Lodge
Location
Sea Lion Island (East Falkland, Falkland Islands)
Description
Sea Lion lodge was purpose built for tourism in 1986. It is right next to the landing strip and also backs on to a magellanic penguin colony. Other sites of interest are within easy walking distance.
Activities
You will have an introductory tour of the island upon arrival. Additional guided Tours can be arranged locally and you can also explore at your leisure. Wildlife is within very easy access and the island is pretty flat so it is not hard to get around. Rockhopper, Gentoo and Magellanic penguins can all be seen, as can Elephant Seals and Sea Lions. There is an inland lake with a lot of other birdlife.
Accommodation
There are 11 comfortable rooms with en-suite facilities in all rooms except two single rooms, which are (currently) shared. There is also a lounge with a bar and large windows from where you can see the Magellanic penguins.
Our comments
Certainly more of a lodge rather than B&B experience and the rooms are spacious and comfortable. Amazingly you can walk to the airstrip from the lodge (no need for an overland journey) and the Magellanic penguins have their burrows just next to the lodge so all is within very easy access.