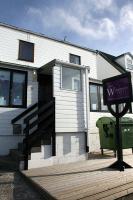 Waterfront Hotel
Location
Stanley (East Falkland, Falkland Islands)
Description
A small hotel of just 6 rooms. It has been very nicely done and there is a lounge area for guests and a small breakfast room. Other meals can be taken at the Falklands Brasserie a block away.
Accommodation
Two of the six rooms face the bay.
Our comments
A lovely cosy property in a great location on the waterfront. Bathrooms are small but rooms are a good size and each individually decorated. We like the waterfront rooms.