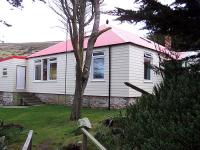 Carcass Island Lodge
Location
Carcass Island (West Falkland, Falkland Islands)
Description
Sheltered by trees the original farmhouse now houses the five guest rooms. Rob and Lorraine McGill are the owners of the Island (and have been for 36yrs) and are your hosts along with their Chilean helpers Roldan and Eva.
Activities
Visit the Gentoo penguin colony about an hours walk away, right by a stunning beach. There are magellanic penguins around the lodge (which you may hear at night!) and the local Caracaras are very tame and many hang around the lodge. A little further afield is a lagoon with a lot of birdlife and a bay with elephant seals and sea lions. It is also possible to take a boat day trip across to West Point island where you can visit a Rockhopper Penguin colony and also a Black-browed Albatross colony. At sea there are good chances of seeing whales and dolphins.
Accommodation
Four of the rooms are en-suite with showers, there is a lounge with honesty bar, a sun (and boot) room and large dining room.
Our comments
One of the most beautiful (if not the most beautiful) island in the Falklands and definitely worth a stop on any itinerary. Your hosts are very friendly and there is no doubt you'll feel very much at home here. Cruise ships do visit and are served tea's and coffee's in the house.