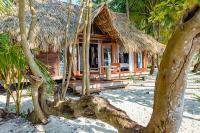 Calala Island
Location
a 1½ hour boat ride from Bluefields (Caribbean and the East, Nicaragua)
Description
A luxury beachfront property on a 10 acre private island off the Caribbean coast of Nicaragua. Access is by a flight from Managua to Bluefields, followed by a 1½ hour boat journey to the island.
Activities
All meals and drinks are included as are on site activities such as fishing, kayaking, cooking classes and visits to local communities.
Accommodation
There are only four beachfront suites, each with their own veranda and beach terrace. It is also possible to rent out the whole property.