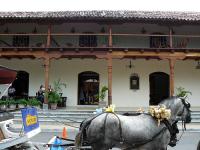 Hotel Plaza Colón
Location
Granada (Granada and Ometepe, Nicaragua)
Description
On the main square in the heart of Granada, this beautiful and historic building is now a comfortable and smart hotel.
Activities
The pool is large and a welcome respite from the heat and bustle of the town outside. There is a wine and tapas bar, and a coffee shop and tour desk.

Accommodation
The internal courtyards and balconies make the hotel feel airy and spacious. Rooms are comfortable and well-equipped, with ceiling fan and air-conditioning.
Our comments
The best accommodation in Granada.