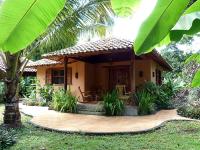 Finca San Juan de la Isla
Location
Ometepe Island (Granada and Ometepe, Nicaragua)
Description
A restored, colonial hacienda with 160 acres of private land inside the Finca San Juan, a tropical fruit tree plantation surrounded by precious wood trees and rare wildlife, on Santo Domingo beach. The main house has a lovely terrace with hammocks, tables and chairs and wonderful views of both Madras and Concepción volcanoes. There is a bar, informal dining area and sitting room with a selection of books, games and a television. The gardens are well kept with many tropical plants, attracting a variety of birdlife and butterflies.
Activities
The lodge have mountain bikes and kayaks, you can swim in the lake, go riding and walk to the village of Santo Domingo (along the beach) or Ojo de Agua water springs (a popular swimming hole). The lodge can also help with any excursions around the island which include hiking or climbing a volcano.
Accommodation
There 3 lake view cabins, 4 double rooms and 2 cabins (1 with a double room and kingsize bed, the other with 2 double rooms and also a kitchen/sitting area). All are rustic but comfortable and reasonably spacious, with air-conditioning and a private bathroom, but no television.
Our comments
The century-old Spanish colonial hacienda house has been faithfully restored, the staff are all very friendly and helpful and it has a wonderful laid-back feel. It's a lovely place to relax, watch the locals fishing and enjoy the birdlife. It is also an excellent base from where you can explore the island.
Client comments and reviews
The Finca San Juan was a beautiful hotel, right beside a (very windy) beach full of birds. I would have liked to have spent several more days in Ometepe and to have had the chance of climbing the Maderas volcano. - DP (February 2017)
Finca San Juan stood out - the cabaña with the most amazing view, excellent food and of course wonderful staff. - SH (March 2015)